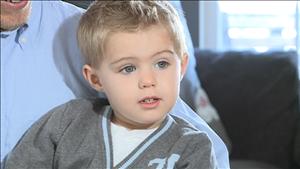 An East Tennessee family is dealing with a medical condition and learning the value of interacting with others facing the same issues.
Two and a half year old Karson Jameson of Lenoir City loves his trucks.
He's also one of about 20,000 males in the United States living with a bleeding disorder called hemophilia.
"When Karson was 8 days old he had the circumcision bleed and from hours of hours of testing then he was diagnosed with hemophilia," his mother, Jessica Jameson, remembered.
Jessica and her husband Dusty Jameson didn't know much about the condition characterized by a missing blood clotting factor.
"We just knew hemophilia meant free bleeding," she said.
Dusty Jameson said, "The things on the outside of the skin, scratches, cuts, those are easy to see. We treat those as we can. It's the internal things, the joint bleeds, those can cause long term damage and it's hard to pick up on them sometimes and especially when they're young and they can't tell you things are hurting."
At first, they depended on trips to the hospital.
"It was really treat on demand. If he had a bleed, any kind of joint issue, and kind of bleed, we took him to Children's. He was treated as needed," Dusty said.
Then they went to the Tennessee Hemophilia Foundation conference in Nashville this summer and actually met other patients who had experienced a treatment option they had only read about: infusions through a chest port.
"They told us all about it and how great it was and that it makes everyday life so much easier because you can treat your child in the comfort of their own home," Jessica said.
"He should have had that port about a year prior to that and would have had no clue had we not have gone to that conference," said Dusty.
They took action almost immediately. "We got home that week after the meeting and scheduled the surgery for the port within a week," Jessica said.
They call the three times a week infusions: factor time.
"When we start Factor Time basically we have to do everything sterile," Dusty said as he walked through the steps involved in the process.
Infusions are a preventative measure to keep internal joint bleeds from happening.
"Before he had the port put in we were having a joint bleed on average once every two weeks. Since the port we've only had one," Dusty said.
Karson and his parents have settled into a routine to keep him healthy.
"We know every Monday, Wednesday, Friday we're going to do an infusion. It takes about 20 to 30 minutes. When we're done, we're able to go on with our day," Dusty said.
"Our faith has definitely played a role in this. If it wasn't for our family and our church family and prayer, we couldn't have done this without that," explained Jessica.
Other families inspired them to try a different treatment option to give Karson the best life possible.
"He's such an inspiration to us and I just hope he continues to be an inspiration to other people who have hemophilia," Jessica said.