Lenoir City boy's lemonade stand raises money for childhood cancer research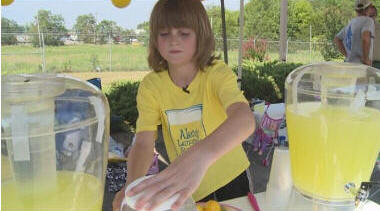 LENOIR CITY, Tenn. (WVLT) - The ingredients are simple: a little water, a scoop of sugary mix and you've got the perfect summer drink.
Nine-year-old Drew Myers doesn't just want to cure your thirst with his lemonade stand. He'd rather cure something much larger.
"I'm raising money for childhood cancer research by selling lemonade," says Myers.
It's his fourth summer collecting donations. Even though Drew is pouring the drinks, the recognition belongs to someone else.
Drew's lemonade stand is actually "Alex's Lemonade Stand."
"Alex was a little girl who had cancer and when she was in the hospital she wanted to do a lemonade stand for other people who had cancer. When she passed away when she was eight, she raised more than $1 million," says Drew.
Drew doesn't have cancer. In fact, he never even met Alex, but, he's since taken up her cause. Drew's mother read about Alex's Lemonade Stand Foundation four years ago and decided they wanted to do something to help out.
"My kids are healthy, thank goodness, and we don't have cancer like a lot of these kids that Alex's Lemonade Stand helps do research for," says Jennifer Yarbrough, Drew's mother.
Unlike Alex, life didn't give Drew lemons. That won't stop him from making lemonade.
"So, other people can have the life like I do, a happy life instead of having sickness and being in hospitals," says Drew.
Drew plans on doing lemonade stands all through high school. He hopes to eventually raise $10,000 for the foundation.
If you missed his lemonade stand, you can still donate here: alexslemonade.org