Lenoir City astronomy buff gears up for eclipse with backyard observatory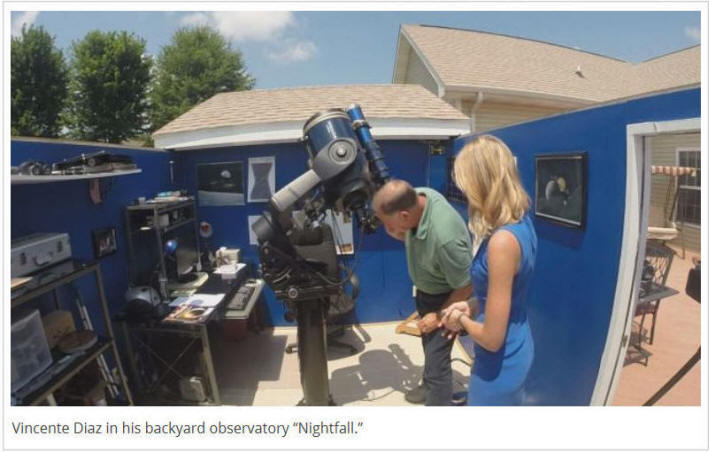 LENOIR CITY (WATE) – To say Vincente Diaz is over the moon for the total solar eclipse is an understatement.
The retired chemist with a passion for astronomy has his own backyard observatory named "Nightfall" in Lenoir City. On August 21 as the total solar eclipse's path of totality passes right over his backyard, he's gearing up for a great view.
Diaz says he plans to have a big total solar eclipse viewing party at his home. Friends and family all over the South are coming over. He says he will have several telescopes set up and screen projections for everyone to see.
When he got married, Diaz said his wife bought him a telescope. He says he used it during an annual eclipse to look at the stars.
"It was amazing to be able to see so many bright stars," said Diaz."When you actually stand there and feel the coolness that comes about when the sun gets covered it is an amazing experience."
Now he is looking forward to something even more amazing: a total solar eclipse. It is something that hasn't been seen in the United States in almost 100 years.
The planets are difficult to see during the day, but Diaz says the total solar eclipse will create an amazing stargazing sight. He says Venus will look like a little moon. His observatory has special computer software that lets him click on a planet or star and the telescope automatically moves that that location.
The observatory was built a few years ago, but Diaz says his love of astronomy blasted off when he was just a kid.
"I used to get up at 3 o'clock in the morning when I was 7 or 8-years-old to look at Saturn because Saturn was right by my window," said Diaz.
He hopes he can instill that same love of the stars in his granddaughters.