East Tennessee artist feels compelled to memorialize members of the community lost to tragedy.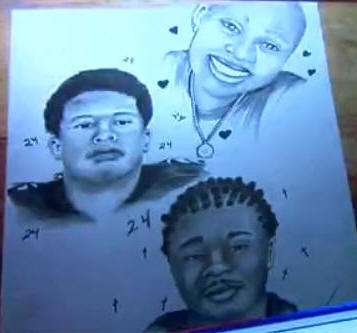 LENOIR CITY (WATE) – Zaevion Dobson and Kendale Garner were both shot and killed in 2015. Hannah Tate died last week after a long fight with cancer.
Eric Henry said he didn't know Dobson, Garner or Tate, but after hearing their stories he felt compelled to draw their portraits. "When you look at the picture it starts to make you think, what happened to them, it could've been you," he said.
The artist said he draws as an escape and to clear his mind. After posting a photo of his artwork to Facebook, the portrait has garnered hundreds of shares and likes.
Now Henry said his inbox is filled with at least 50 requests from people wanting him to draw pictures of their lost loved ones. He said he has already starting on the new requests.
"This is a picture of a guy named Sidney Jackson I believe who was killed in November," said Henry holding up a recent portrait. He said knows the outcome will be memory the families' who lost a loved one will remember forever.
Henry has never taken formal art classes and he only draws in his spare time, but he has been drawing since middle school and when he does pick up a pencil he's focused. "It's just me, the paper, the pencil or these utensils I use," he said.
Henry hasn't delivered the portraits yet to the families, but plans to get the pictures to them soon. "It's worth seeing the comments or seeing the look on the person's face when you're done," he said.