Lenoir City Administrator Retiring

Stephanie Myers News Herald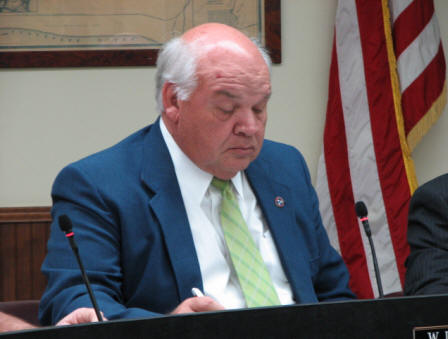 He has always been a perfectionist. That's why he ponders city issues in the middle of the night and seldom takes long vacations.

But after nearly 17 years, Lenoir City Administrator Dale Hurst will retire from public life at the end of the month and head to the farm. "You just kind of intuitively know it's time," Hurst said.

With the mindset that he has helped the city make progress over the years, Hurst believes he is leaving on a positive note. When he first started, many city features and conveniences of today didn't exist -- the bustling Highway 321 corridor, Roane State Community College along Broadway Street, For Loudoun Medical center, the up and coming Town Creek Parkway and Creekwood Park Boulevard that is poised for growth and the anticipated Tennessee River bridge, which is slated to open June 2016.

"I am proud of our budgetary work we've done...I think the city is on sound fiscal footing. I know it is. I can show you," Hurst said, adding that the city boasts clean audits, the acquisition of many grants and has recently improved its credit rating.

With an average of only three or four hours of sleep a night, Hurst said he always has the city on his mind, and often tinkers with city affairs at his home office.

"I don't do it because it's easy. I like to do it because it's hard," he said.

The job has its sacrifices, and he attributes his success to experience and hard work.

"I'm working all the time so I'll just outwork you," Hurst said. "I just will. If you do that long enough you're bound to get a little better at it. I just found there is no substitute for hard work...and I'll just outwork. It's not superior intellect. It's just hard work and there is no substitute for that."

It's a work ethic instilled since childhood, he said, crediting the example of his mother and father.

What exactly does a city administrator do? Though he vows not to keep a "micromanaged" hand on departments across the city, his responsibilities include all city affairs and managing employee activities.

"I manage the direction they move and you learn early on that we're a team. We move in one direction, not six different directions for a city. I think that's a way a city progresses," Hurst said.

"It's not the same thing every day. People think it's maybe you sit in the office and you work on budgets all day. You don't ," he said with a small laugh. "Each day is generally a little bit different, which is good, which is what I like about it. You may be dealing with budgets one moment and the next moment you may have a personnel issue you're dealing with or a crisis comes up within one of the half dozen departments you're overseeing."

He likes to make daily "check-off" lists. "I'm really bad for it. I've done it for many, many years," Hurst said. But, it's his way of tackling his post. "You don't always get it done. You may have to flip it to the next day or two or whatever, but I'm not satisfied until I get it done."

City councilmen and other officials call Hurst an "asset."

"He's been certainly just a big help to me and I just don't know what we're going to do, but he's been a great, great asset to the city," Mayor Tony Aikens said at a recent city council meeting when Hurst announced his retirement. "We're certainly going to miss you."

Councilman Eddie Simpson noted when he joined city council in 1999 that the city did not have a reserve fund. "Now we have $2.5 million in reserve and still have grown and have done some good things," Simpson said.

Councilman Mike Henline described Hurst as "solid."

"If Dale says it, you can take it to the bank. There's no question about it," he said. "In your life you don't meet many people like that."

Working in government wasn't Hurst's first choice for a career. He wanted to be an educator, and even was a social sciences teacher at Heritage High School and a substitute teacher for surrounding schools. He received his bachelor's degree in business administration and public policy from Maryville College and was a certified teacher in the social sciences, but jobs were scarce and he could never find a full-time position.

He graduated from Walland High School in Blount County at 16 years old and took a variety of odd jobs, like in the restaurant business and a Caterpillar factory in Illinois. He was drafted into the U.S. Army during the Vietnam War era and served stateside before he went to college.

A friend, who was mayor of Friendsville at the time, told Hurst about a city recorder/treasurer job, a position he credits to "learning the trade." He served in Friendsville for seven years. When the city administrator position opened in Lenoir City, Hurst jumped at the opportunity. He began his Lenoir City post in October 1997 at age 46.

Though it wasn't the career he planned on, he has loved "every minute of it." He has been working part time in an effort to transition into full retirement.

"Sometimes you get tired in the work, but I've never been tired of the work, but I've never been tired of the work and there's a big difference," Hurst said.

He plans to spend time with family, maybe do a little traveling and help his mother-in-law take care of the family beef cattle farm near Sweetwater.

"I think I'd kind of like to keep my hand in this line of business in a way, and I don't know how that will manifest itself," he said of interim positions. "I haven't given it a lot of thought."

Current city recorder/treasurer Jim Wilburn will take on extra responsibilities as city administrator with help from current risk manager Amber Scott, who will act as assistant city administrator. The budget committee will set a salary for both positions.