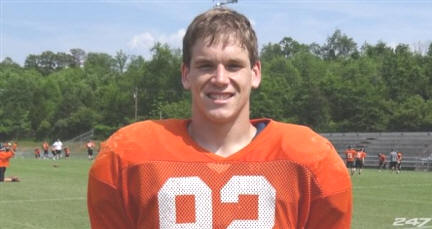 MARYVILLE — An impromptu decision led to an even bigger one this past week for Lucas Hamilton.
Hamilton, a tight end at Lenoir City High School, decided on the way home from a combine in Indianapolis last Sunday to make a pit stop in Murfreesboro to look around at Middle Tennessee State University.
The Blue Raiders had offered him a scholarship during the school year, he said. So he phoned MTSU assistant coach David Bibee and got a tour of the campus and facilities on Monday. After spending a few hours there and meeting with the offensive coaches more, Hamilton decided to commit to coach Rick Stockstill.
"The longer I was there, the more I liked MTSU and the feeling around their campus and around their football program," said Hamilton on Saturday at the Maryville College 7-on-7 Perimeter Passing Camp.
"I'm happy with my decision to commit. It's where I want to be. I feel it's where I need to be, to give me the best chance to possibly play even on after college football — possibly in the NFL. If I don't play football after college, (going to MTSU) will help me better in life."
Hamilton said he measured in at 6-foot-5 and 230 pounds in Indianapolis. He was timed at 5.1 seconds in the 40-yard dash, ran a 4.6 in the shuttle, logged a 25-inch vertical and recorded a 7-feet, 10-inch mark in the broad jump.
He played a role in Lenoir City reaching the Class 5A state quarterfinals last season. And playing in a spread offense with returning senior quarterback Jordan Hall will only showcase his abilities again this season.
"(Our offense) shows teams I don't just have the size to play on the next level, but that I can also catch," said Hamilton. "I can run routes well. I get open well. And I know what I'm doing out there with the ball when I catch it."
Hamilton became the second MTSU commitment from the PrepXtra area. Alcoa offensive lineman Dalton Ownby committed in mid-June.