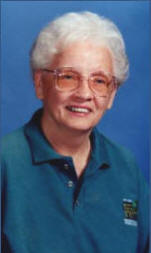 Mary Louise (Ed) Ledbetter was a loving sister, aunt, cousin, friend, teacher and coach to all those who knew her. Although she enjoyed reading, movies, trips, and sports, her heart was at home. Living in the house in which she was born on February 20, 1927, gave her great pleasure. She was an avid Lady Vol fan and member of the Lady Vols Booster-Her Club. A 1945 graduate of Lenoir City High School, she received her B. S. from Huntington College in 1949 and her Masters Degree from Peabody in 1963. She was inducted into the LCHS Sports Hall of Fame in 2006 and received the Ron Tilley Service Award in 2013. She worked in the Lenoir City School System for 60 years as teacher, coach, and attendance supervisor; she served as cheerleader and basketball coach and L'Cean editorial sponsor. She worked local elections for many years. She loved traveling, especially to see relatives and ballgames, both Panthers and Lady Vols.
Thursday, May 12, 2016, she was welcomed to her heavenly home by her parents Roy B. and Helen Moreland Ledbetter and brother Mickey and niece Fran and a host of aunts, uncles, cousins and friends. Survived by family members Ronald B. Ledbetter, Bonnie Jean Ledbetter, Cindy and Craig Ogle, Peggy Ann Bassett, Mitch, Lee and Charlie Ledbetter, Jessica Hartline and Drew Cauthren and loving cousins, friends, and former students. Special friends: Edyth Ann Worthy, Marge Price, Patsy Hammontree, Ronnie Marking, and her friends in the Zilla Hardee Sunday School Class at First Baptist Church.
The family will receive friends from 1-3 p.m. Sunday at Trinity Methodist Church in Lenoir City. Funeral services will follow at 3 p.m. at the church with Rev. Mahan Archer and Dr. Dick DeMerchant officiating. Burial will follow in the Lenoir City Cemetery.
The family would like to express a special thanks to Amedysis Hospice and the employees of River Oaks, Lenoir City and Loudon.
In lieu of flowers, memorials may be made to the Trinity United Methodist Church, Loudon County Special Olympics, the Pat Summitt Foundation or a charity of your choice.
Click Funeral Home, 109 Walnut Street, Lenoir City is in charge of arrangements.