LCUB bucket truck crashes off Boyd Station Road Crash leaves one dead, another injured

Staff Reports - Farragut Press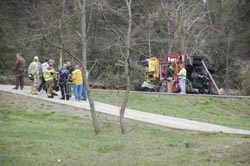 A LCUB truck carrying two contractors crashed leaving one dead and another injured.

Knox County Sheriff's Office deputies were dispatched to 12916 Boyd Station Road after being alerted by E911 of an accident at about 1:06 p.m., Tuesday, March 8.

Officers had been advised of an accident involving a bucket truck at the West Knox County scene.

KCSO officers arrived on the scene at 1:07 p.m. and found the truck on its side with the driver dead and passenger with non-life threatening injuries.

According to witness statements, the truck was traveling eastbound on Boyd Station, about 1/4 mile west of Harvey Road, when it ran off the edge of the roadway, overcorrected and went across the other side of the road, flipping on its side in the ditch. The driver, Danny Collins, 35, of Talbot was pronounced dead on the scene. The passenger, Isaac Mitchell, 24, was transported to The University of Tennessee Medical Center by Rural Metro with non-life threatening injuries. Neither were wearing seatbelts.

Both were employed by LCUB as contractors.