Hugh G. Willett knoxnews.com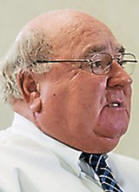 LENOIR CITY - In a surprise move, the directors of the Lenoir City Utilities Board voted unanimously Friday to replace retiring LCUB General Manager Fred Nelson three months ahead of schedule and to limit the responsibilities of the general manager position.
The board, in a special called meeting at City Hall, also voted to appoint LCUB Assistant General Manager Shannon Littleton as interim GM during the search for Nelson's replacement.
Before the meeting began, Littleton, who also is city attorney for Lenoir City, asked the board to gather in a closed-door executive session. Littleton said the meeting was limited to a discussion of threats of litigation, possibly including a lawsuit from Nelson.
After about 15 minutes, the board returned from executive session and voted unanimously within another 10 minutes to elevate Littleton to the GM position.
Board member Eddie Simpson served as chairman for Mayor Matt Brookshire, who was not present.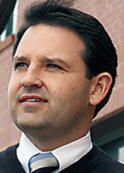 Brookshire later said that he was deliberately excluded from the meeting. Brookshire is Nelson's son-in-law.
Board member Tony Aikens said the "turmoil and rumors" circulating among hourly and salary employees of LCUB regarding Nelson's replacement were keeping them from concentrating on their jobs. Aikens thanked Nelson for his years of service before making the motion to replace Nelson - who had already planned a January 2010 retirement - immediately with Littleton.
Board member Douglas Hines seconded the motion, saying, "I think we need to take our time searching for a new manager."
All six members of the board present - Aikens, Mike Henline, Douglas Hines, Bobby Johnson Sr., and Knox County board members Joel Garber and Pat Beasley - voted to replace Nelson. Simpson did not vote because he was sitting as chairman. Board member Gene Hamby was not present.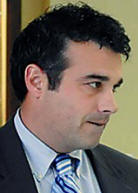 Littleton said he would accept the job of general manager if the board saw fit to appoint him permanently and that he would encourage the board to conduct a regional search. He also recused himself from providing further legal advice to the board on the subject of the GM search.
Fred Nelson, worked for LCUB since 1966; appointed general manager in November 2003; replaced Friday, officially retiring in January 2010; Matt Brookshire's father-in-law
Asked about the executive session, Frank Gibson, director of the Tennessee Coalition for Open Government, said Tennessee Supreme Court decisions protect the right of attorneys to advise their clients of possible litigation during closed sessions.
"They should only hear from the lawyer; they should not be voting," Gibson said.
Aikens also made a motion during the open meeting that the entire board of directors serve on the search committee for a new general manager.
The board owed it to the citizens of Lenoir City and Knox County to conduct the search for the new GM properly, he said.
Hines said he thought the citizens would approve of the fact that "the process was above board."
The directors also voted unanimously to form new committees to oversee budget and personnel issues.
The committees give the board more responsibility for management decisions at the utility; under Nelson's leadership, the general manager had sole responsibility for salary and personnel decisions.
During a board meeting earlier this week, Brookshire - considered by several board members to be a candidate for the GM job - and Nelson both argued against the formation of committees to manage personnel and budget issues.
Simpson argued earlier in the week that the board should "take back control" of LCUB.
The special called meeting of the board Friday was posted in a local newspaper Wednesday. Friday morning, however, a notice canceling the meeting and signed by Brookshire was posted on the doors of City Hall.
Reached after the meeting, Brookshire, a Lenoir City Middle School teacher, said he was extremely disappointed that the board had called the meeting at a time when they knew he could not attend.
"It was an underhanded stunt to pull by four board members who deliberately arranged a time when they knew I couldn't be there," he said.
Brookshire also said he did not approve of the way the new committees were structured. The purpose of the restructuring of responsibilities was really about giving members of the board control over jobs and salaries at LCUB, he said.
Nelson, who last month had announced his intention to retire, was not at the meeting Friday and could not be reached for comment. He has reportedly been in poor health and has not been in the office for several days.
The board voted to give Nelson his full pay and benefits through his official retirement date of Jan. 22, 2010. Nelson had worked for LCUB since 1966 and was appointed general manager in November 2003.
LCUB is the fourth-largest utility in the state, with revenues estimated at around $90 million and about 170 employees servicing almost 60,000 customers in Loudon, Roane and Knox counties.
---
Nelson ousted early
Greg Wilkerson News Herald
(Updated from earlier story with Brookshire quotes)
Members of the Lenoir City Utilities Board met Friday afternoon, despite having the meeting cancelled by Board Chairman and Lenoir City Mayor Matt Brookshire, to force an early retirement for LCUB General Manager Freddie Nelson. Neither Nelson nor Brookshire were at the meeting. Last month Nelson announced his plans to retire, effective Jan. 22.

The members present Friday, including Tony Aikens, Bobby Johnson, Joel Garber, Mike Henline, Douglas Hines and Pat Beasley voted unanimously to pay Nelson through Jan. 22, but replace him immediately with Shannon Littleton, the city's attorney and assistant general manager at LCUB, as acting manager until a permanent replacement is selected. Vice Chairman Eddie Simpson was also at the meeting but as acting chairman in Brookshire's absence did not cast a vote.

Aikens, who made the motion to remove Nelson, said when a person in Nelson's position announces his retirement, "it creates turmoil, rumors among the hourly people, administrative people and salary people."

His motion included paying Littleton at the same level as Nelson while he is fulfilling the role. "I'll take the challenge as the board sees fit," Littleton said, adding, "I would encourage the board to do a regional search for a general manager."

Littleton also pointed out he may be among those considered as a candidate for the position."I think we need to take our time and get the best person," Hines said.

The board also voted unanimously to expand the members of the search committee for a new general manager to include all the members of the board including the mayor. They also approved the appointments of Aikens, Simpson, Henline and Hines to the LCUB personnel committee and Johnson, Garber, Beasley and Gene Hamby, who was not present, to the budget and salary committees.

At the beginning of the meeting Littleton asked the board members to join him in a closed-door executive session to discuss possible litigation stemming from their actions.

"This meeting was scheduled deliberately so I could not be there, deliberately," Brookshire said.

He said he didn't agree with the decisions the board made, but was more disappointed with the way they handled things. "Why would they not hold the meeting at 3 o'clock or 4 o'clock?" he asked. LCUB meetings are typically held at 4 p.m. Brookshire said there were four members of the group who initiated the meeting.
"Some of them in that group of four are very angry with (Nelson) because he would not do what they privately instructed him to do - hiring family members, giving raises to family members - so this is their recourse," Brookshire said. "My hunch is that this is their way of getting what he wouldn't give them."
Brookshire said he believes the only recourse may be legal action, and that's not an option he's willing to take.