We would like to thank all those who sent in donations during our fund drive last year. Last year was the first time we attempted a mail out letter, in which we mailed out 10,730 letters and received 965 donations. With a 9% return our total amount raised was $64,088.00, and we hope that with this being the second year and the residents being aware of the fundraiser, we will have a better return.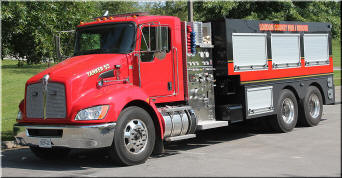 With the donations that we received last year, and the donation from the Loudon County Commission we were able to purchase a much needed tanker/pumper which carries 2500 gallons of water for $227,000.00. Have the capability to carry this amount of water assists us in areas that do not have hydrants readily available, which makes up approximately 70% of our jurisdiction. This will allow us to potentially keep a continuous flow of water on a fire scene when we have hydrants that are located several miles from the scene. The new tanker can also help us when Insurance Services Organization (ISO), reevaluates our department to set a Class 5, which should lower county resident's and business owner's property insurance if we are able to achieve this rating. There are many more factors for the rating scale that are out of our control, but the new tanker is one area that is in our control and with your help we have been able to remedy part of the problem.

Our future goals for this fund drive are to make some much needed upgrades on our stations. We are planning on building a brand new station in the Eaton's Crossroads area (Hwy. 321 and Hwy. 70), and in enough money is raised, we will build this station with living quarters enabling us to staff the station when the time comes. The Martel station will be getting a new roof and upgrades inside to establish living quarters in that station to accommodate this same goal.

Again, we ill not be able to achieve these goals without the generosity of the citizens in Loudon County. We appreciate your assistance in helping us to better protect you.

Thank you,
The Officers and Members of Loudon County Fire Rescue

For more information on LCFR, please visit our web site.