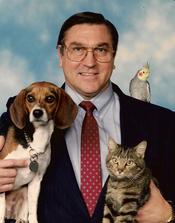 Patrick Ray Walker, DVM, age 62 of Loudon, passed away Tuesday, May 3, 2011 in the VA Hospital in Johnson City. Dr. Walker established the Loudon County Animal Hospital in the early 1980ís. He was very active in establishing the first Animal Shelter in Loudon County and instrumental in the resurrection of the Loudon County Humane Society.
In addition to his love for animals, he was an avid photographer, enjoyed carving wood, riding his horse, Glory and recently began exploring ballroom dancing.
Dr. Walker received his undergraduate from the University of Tennessee, Knoxville and his Doctor of Veterinary Medicine at Auburn University. He was a Veteran of the US Army serving his country during the Viet Nam War and earning a bronze star. Dr. Walker was also a longtime member of the Loudon Lions Club and the Tennessee Valley Unitarian Universal Church in Knoxville.
He was very involved and interested in his community and fellow man and his gentle nature and good humor will be missed terribly by many. He is preceded in death by his parents, Charles Lee and Olive Lorene (Bozeman) Walker and a sister, Waurayne Cope.
Surviving are his sons and daughter in-law, Clinton Neal and Ericka Walker, Savannah, GA, and Austin Reed Walker, Atlanta; mother of his children, Sheila Rosenbaum; brothers and sister in-law, Dwain and Bobbie Sue Walker, Texas and Jessie Lee Walker, Knoxville; twin sister, Patricia Fay and husband, Mike Ziegler, TX; sisters and brother in-law, Bobby Fulmer, NC, Connie Laird, Minnie and Henry Moses, all of TX; special niece, Kim Ziegler, TX; numerous nieces and nephews, friends and the staff of the Loudon County Animal Hospital.
Funeral services were 7:30 PM Friday, May 6th, McGill-Karnes Chapel, Rev. Jenny Arthur officiating. Contributions in memory of Dr. Pat Walker may be made to the Loudon County Humane Society, P.O. Box 602, Lenoir City, TN 37771 or to the Smile Train, PO Box 96231 Washington, D.C. 20090-6231 an organization benefiting children with cleft palettes.
Interment was 10:00 AM Saturday in the Loudon County Memorial Gardens with full military honors provided by the Loudon County Veterans Honor Guard. The family will received friends 5:00 - 7:30 PM Friday prior to the service at McGill-Karnes Funeral Home.