Late Loudon Co. soldier honored for bravery in Vietnam War

By ANN KEIL
6 News Reporter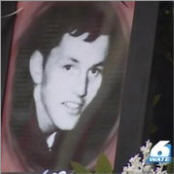 LOUDON (WATE) -- There was a special dedication Tuesday in Loudon County for a young soldier who made the ultimate sacrifice during the Vietnam War.

A memorial was unveiled for the late Sgt. Mitchell Stout, a Medal of Honor recipient, on the Loudon County Courthouse lawn.

"He believed in what he's doing and that's the one thing that helps you get through something like this," says Faye Thomas, Sgt. Stout's mother.

On March 12, 1970, Sgt. Stout, 20, was in a bunker in Vietnam when his group was attacked.

"Somehow, a grenade got tossed into the bunker that would have killed them all. Sgt. Stout picked it up, held it to his chest, ran out of the bunker, and as soon as he got outside, mortar fire landed near him and killed him instantly," says District Attorney General Russell Johnson.

Faye Thomas sat with other Gold Star Mothers who were also honored during the ceremony. She was presented with a honorary high school diploma for her late son, among other honors.

"It's special because this is home. There are a lot of people I know and people that really knew Mitch as a person," Thomas says.

"Mitchell Stout is a significant page in that heritage and history here in Loudon County, and I think that we need to bring out as much information about his story as we can," Johnson says.

Sgt. Stout is one of only 246 Medal of Honor recipients from the Vietnam War.

Names were also added to the veterans memorial that sits on the Loudon County Courthouse lawn.