Koprince, William Craig, Jr.
(Lance Corp. United States Marines)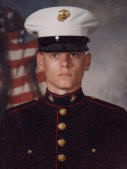 Age 24 of Lenoir City, passed away December 27, 2006 at 2:45 a.m. EST while serving with the Third Battalion, Second Marine Division, India Company First Platoon in Iraq. Billy was a 2001 graduate of Lenoir City High School and a member of New Life Church of the Nazarene in Oak Ridge. He was preceded in death by his grandparents, Morgan Wickman, Dr. Robert Koprince and Evelyn Koprince. He is survived by his parents, William and Bernice Koprince of Lenoir City; sister, Morgan Koprince Moore and husband, Andrew of Kingston; grandmothers, Olive Wickman of Lenoir City and Anne Koprince of West Bloomfield, MI; numerous aunts, uncles and cousins. Funeral services will be held at 6 p.m. Thursday, January 4 at First Baptist Church in Lenoir City with Rev. Tim Fields officiating. Visitation will follow the service at the church. Family and friends will gather at 11 a.m. Friday in the Kingston Memorial Gardens for graveside services and interment with full military honors being conferred by the United States Marine Corp. In lieu of flowers, the family ask that memorial donations be made to New Life Church of the Nazarene in Oak Ridge. Pall bearers will be Walter, Adam and Ryan Patterson, Nick Broyles, Rob Malin and Matt Fields. Click Funeral Home in Lenoir City is serving the family of Lance Corp. William Koprince, Jr.