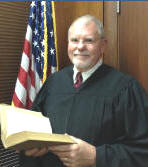 The Honorable Terry G. Vann, age 68, of Lenoir City, Tennessee, passed away March 13, 2016. He was a member of First Baptist Church Lenoir City. Terry graduated Lenoir City High School in 1966 and joined the United States Marine Corps, serving in the Vietnam War. After being Honorably Discharged from the Marine Corps in late Fall of 1968, he enrolled in college, earning his Bachelor's Degree in 1972 and graduating the University of Tennessee Law School with a J. D. Degree in 1974. He has practiced law in Lenoir City for over forty years. He was elected to the Loudon County Commission in 1976 where he served until 1980. He served as the City Attorney for Lenoir City from 1977 until 2000, and for the past 16 years, he has served the community in the elected position of City Judge for Lenoir City. Terry had the proud distinction of being the last ever elected Justice of the Peace in the State of Tennessee in 1975. If there was ever a person that had reached the end of their road in life and could look back and confidently say that they had had the most fun, shared in the most laughter, participated in the most adventures, and enjoyed close friendships with so very many people, it would be Terry Vann.
Terry was preceded in death by his parents, Ward Vann and Martha Bowden of Lenoir City, and Father-in-law, W. N. McNabb Jr., also of Lenoir City. He is survived by his wife, Gail McNabb Vann, the love of his life, Mother-in-law, Mildred McNabb of Lenoir City, and brothers-in-law, Gary McNabb of Talbott, Tennessee, and Mike McNabb (Donnette) of Morristown, Tennessee, and nephews Matthew and Shelby McNabb, both of Morristown.
The family will receive friends from 5:00 p.m. - 7:00 p.m., on Wednesday, March 16, at Click Funeral Home in Lenoir City. Funeral services will follow at 7:00 p.m. with Dr. Dick DeMerchant officiating. Family and friends will gather at 11:00 a.m. Thursday in the Loudon County Memorial Gardens Cemetery for graveside services. Military honors will be conferred. Pallbearers will be Lenoir City Mayor Tony Aikens, District Attorney Russell Johnson, Robert "Tooter" Robinett, Mark Matlock, M. Shannon Littleton, and Leon Shields.
In lieu of flowers, contributions should be made to the Disabled American Veteran (DAV) at www.dav.org or mailed to DAV Charitable Service Trust, 3725 Alexandria Pike, Cold Springs, KY 41076. Angio Sarcoma is one of several soft tissue sarcomas, as well as one of many diseases, that the VA concedes is the result of exposure to the chemical known as Agent Orange that was used so liberally by the US Military in the jungles of Vietnam. Almost forty-eight years after returning home from Vietnam, Terry Vann made the ultimate sacrifice for this Country. Please help support all Veterans. The sacrifices that these men and women have made do not end with an Honorable Discharge. Semper Fi.
Click Funeral Home in Lenoir City is in charge of arrangements.