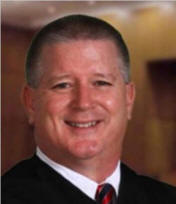 At Monday's commission meeting, Loudon County General Sessions Judge, Rex Dale, presented his proposal to create a second general sessions judge position for the county. Dale has complained at previous commission meetings that his work load was too heavy and that he was working fifty to sixty hours a week.

The conservative cost of the new court was estimated at around $300,000.00 annually. The judges current salary is $153,000.00. The new judge would also, by law, have to be paid the same salary. Dale had proposed a $51 increase in the litigation tax to pay at least a portion of the cost of the new court.

In the end, Judge Dale failed to get the votes needed to create the new court.

A number of factors appeared to go against Dale's new court, not the least of which is the current law suit being waged against the county by General Sessions Court Clerk, Lisa Niles. Niles is currently suing the county for more than a quarter of a million dollars for additional staff and higher wages for her current staff claiming she can't handle her current work load. Ms. Niles recently stated in a different meeting that if the Judge Dale were successful in getting his new court, she would need even more help to do her job. Dale has disputed Niles claim that the new court would require her to hire more help.

Other issues Dale faced was the sheer cost of the new court and the need of any tax increase to fund it.