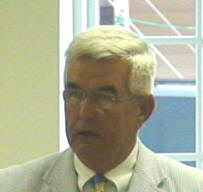 Long time General Sessions Judge, William Russell, has announced plans to retire. Russell who was elected to the bench in 1998 and reelected in 2006 will submit his retirement notice to the Loudon County Commission later this year with an effective date of September 1, 2010. His retirement which will be four years prior to the end of his second term will require his seat to be on the May 2010 primary and August general election.

The open General Sessions Judges seat in the 2010 election could produce a long list of candidates for the nearly $135,000.00 per year job. Only lawyers residing in Loudon County can qualified to run for the seat.

Judge Russell or Bill as most know him said he is looking forward to his retirement.