John 'Thunder' Thornton wins $15.4M judgment against Mike Ross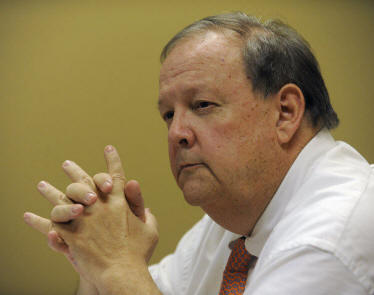 A high-profile Chattanooga developer has won a multi-million-dollar judgment against Rarity Communities developer Mike Ross, but whether he collects it is another question.

John "Thunder" Thornton, a significant University of Tennessee donor, had sued Ross and a pair of business entities related to Ross over Rarity Club, a waterfront project in Marion County, Tenn. Thornton previously had won a judgment against the businesses, but sought a personal judgment against the Maryville developer, as well.

The lawsuit went to trial in Marion County in December, and a consent judgment of more than $15.4 million — including costs and attorney's fees — was entered against Ross, who represented himself during the trial. A claim for punitive damages in the case was dismissed.
In an interview Tuesday, Ross said he couldn't afford an attorney, and said the jury deadlocked. "I've got several judgments against me, and rather than fight it … I just agreed to give him the judgment," Ross said. "I didn't want to agree to any punitive damages, because I didn't do anything wrong. I didn't commit any fraud."

Thornton said he'd like to collect on the judgment, "but I may never see a penny of it. Anybody wants to help me collect it, I'll give them half."
"It was important to me not just to get a judgment from his company, but get one from him personally," Thornton said. "Because he was personally responsible for that project's failure, and no one else."

According to the Times Free Press, Thornton assembled the 578-acre parcel from TVA after swapping more than 1,000 acres of other property in the area to the federal agency.

Thornton sold his interests in 2006 to Ross and Rarity Investment Co. LLC, but kept a second mortgage on the property that was to be paid off as lots were sold.

Thornton previously has alleged that Ross and his companies sold more than $26.5 million worth of property but didn't complete the amenities and infrastructure at the project.

Ross previously has said it was his company's intention that as long as there was cash flow and lot sales there would be enough funds to build the amenities, but he also has acknowledged that during the initial phase of development, some money from Rarity Club sales probably was reinvested in other projects.

Ross has been fighting courtroom battles for years, since his sprawling portfolio of upscale residential communities collapsed during the Great Recession of 2007-2009.

He was indicted in 2012 on federal charges of mail fraud, wire fraud and money laundering, but those charges were later dismissed