The Loudon County commission, budget committee met with General Sessions/Circuit Court clerk, Lisa Niles, a second time last Wednesday to discuss her law suit against the county for more money. Niles has filed suit against the county demanding nearly a quarter million dollars more for her department budgets. This would include 6 new full time employees additional part time positions and additional raises for all 17 staff members.

At the meeting, Ms. Niles presented a document showing her departments case load and case filing statistics from 2004 thru 2013. After some discussion, board member Steve Harrelson pointed out that based on the document she had presented, her departments case load and case filings had actually gone down over the years and based on that he just couldn't support additional funding at this time.

The budget committee ultimately voted not to recommend any additional funding for Ms. Niles this fiscal year.

The previous commission had already given Ms. Niles an additional $165,000.00 for her budgets for fiscal year 2014-2015 bringing her combined budgets to nearly $900,000.00.

Based on the document provided by Ms. Niles, her case load has decreased by 4% and her case filings have decreased by 18%, 2004-2013. However the clerical line in her Circuit Court budget has increased by 204% and the clerical line in her General Sessions Court budget has increased by 91% during the same time periods.

It will now be up to Ms. Niles if she wants to follow through with her lawsuit against county tax payers.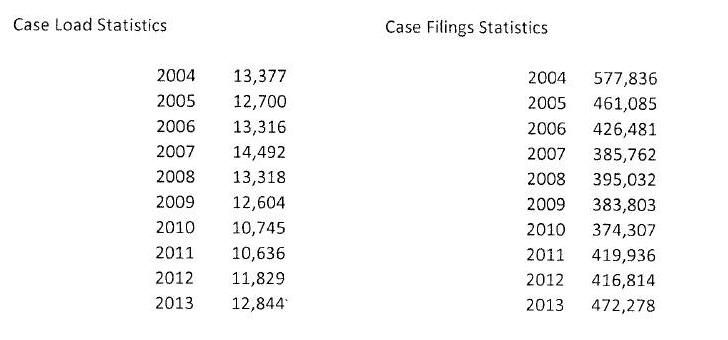 | | | | | | | | | |
| --- | --- | --- | --- | --- | --- | --- | --- | --- |
| Circuit Court | | | | | | | Increase | Increase % |
| | 2003 Audit | | 2013 Audit | | 2014-15 Budget | | 03-14 | 03-14 |
| County Official | $52,455.00 | | $64,977.00 | | $70,263.00 | | | |
| Clerical Personnel | $43,659.00 | | $122,387.00 | | $132,808.00 | | $89,149.00 | 204% |
| In-Service Training | $260.00 | | $672.00 | | $750.00 | | | |
| Communication | $2,726.00 | | $1,098.00 | | $1,765.00 | | | |
| Dues/Memberships | $724.00 | | $672.00 | | $950.00 | | | |
| Printing/Stationery | $1,581.00 | | $1,635.00 | | $3,290.00 | | | |
| Travel | $2,034.00 | | $1,718.00 | | $2,500.00 | | | |
| Other Contracted Services | $5,733.00 | | $8,527.00 | | $17,753.00 | | | |
| Office Supplies | $4,485.00 | | $3,413.00 | | $4,230.00 | | | |
| Surety Bonds | $250.00 | | $175.00 | | $250.00 | | | |
| | $113,907.00 | | $205,274.00 | | $234,559.00 | | $120,652.00 | 106% |
| | | | | | | | | |
| General Sessions | | | | | | | | |
| | 2003 Audit | | 2013 Audit | | 2014-15 Budget | | | |
| Clerical Personnel | $141,114.00 | | $268,173.00 | | $269,340.00 | | $128,226.00 | 91% |
| In-Service Training | $512.00 | | $862.00 | | $728.00 | | | |
| Communication | $1,120.00 | | $3,139.00 | | $3,750.00 | | | |
| Dues/Memberships | $120.00 | | $280.00 | | $376.00 | | | |
| Printing/Stationery | $3,568.00 | | $5,962.00 | | $7,228.00 | | | |
| Travel | $929.00 | | $2,187.00 | | $2,500.00 | | | |
| Other Contracted Services | $5,692.00 | | $16,644.00 | | $17,660.00 | | | |
| Office Supplies | $6,903.00 | | $5,662.00 | | $9,169.00 | | | |
| | $159,958.00 | | $302,909.00 | | $310,751.00 | | $150,793.00 | 94% |