Bill Howard knoxnews.com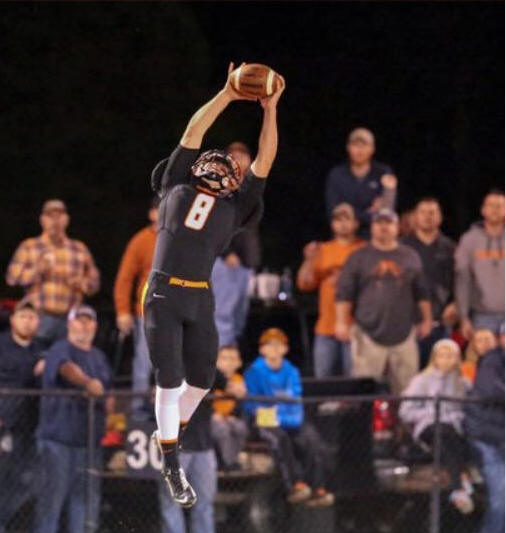 GREENBACK — After a dismal first half of offense, Greenback High School's football team struck for three straight second-half touchdowns, and held off Columbia Academy 21-14 Friday night in the semifinals of the Class 1A state playoffs.
The Cherokees (12-2) will play for their second state title — their first coming 28 years ago — Friday at noon Eastern against Nashville Christian (13-1) in Cookeville.
"We're very pleased, it's been a long time coming," said Cherokees co-head coach Brent Kilpatrick. "These kids have been through a lot and they've worked, and it was just an outstanding effort tonight. From the players and the coaches and the whole community, the whole atmosphere ... that helped us get the victory tonight."
After the first half, in which the Cherokees had a mere 75 yards of offense, it seemed they might get shut out. Columbia Academy (12-2) led 7-0 at the break behind a 14-yard touchdown pass from quarterback Dylan Johnson to Taylor Thompson with 2:48 left in the half. The play capped a 72-yard, seven-play drive.
"We made some adjustments at halftime," said Kilpatrick. "We've been for whatever reason the last couple of games a second-half team. We were able to come out tonight to put up enough to get the win."
Those adjustments took effect immediately in the third quarter. On the second play from scrimmage, Greenback quarterback Hunter Willis hit Taylor Jones for a 62-yard completion to the Columbia Academy 4-yard line. Willis' 2-yard keeper two plays later cut the lead to 7-6.
The Cherokees then drove 92 yards to lead 14-7 when Kayne Roberts went over from the 1. On the next drive, Willis found Jones for a 45-yard score to make it 21-7. For the game, Willis was 11 of 18 for 228 yards and a score.
The Bulldogs cut it to 21-14 when Hudson Primm scored from 2 yards out following a long punt return, then got the ball back late for a chance to tie. But with 44 seconds left, Johnson's fourth-down pass was picked off by Willis. Johnson and Thompson combined for 224 yards through the air.
"Hunter Willis played outstanding, I thought," Kilpatrick said. "Kayne Roberts ran the ball hard and made some plays. The defense did an outstanding job. They held a team that's scored 40 points in every single game to 14."
"It's (the state title game) gonna be a big challenge for us. You can see the emotions that have been let loose. We've been working for this for a long time. It's just a good time to be at Greenback."