6th District County commissioner, Steve Harrelson has announced that he will be running for Loudon County mayor in 2018. Harrelson made his announcement at last weekend's GOP meeting. Incumbent county mayor, Buddy Bradshaw, had announced earlier that he would be seeking re-election in 2018 also.

This is the first time, that I'm aware of, that a sitting commissioner has challenged a sitting mayor.

With a contested sheriff's race and now the mayor's race contested, the 2018 election is shaping up to be a dandy.

Below is Harrelson's public announcement. Also his Facebook page link.

https://www.facebook.com/steve.harrelson.9
---
To the Citizens of Loudon County: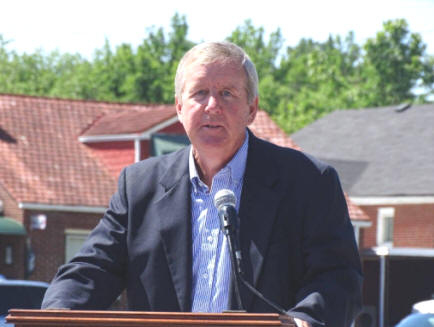 I am coming to you today, with much excitement, to announce my candidacy for the Office of Loudon County Mayor in the upcoming May, 2018 election. I appreciate this opportunity and want to give you just a little background information about how I came to my decision to put my name on the ballot.
Soon after graduation from the University of Tennessee in 1986,I was hired by the City of Lenoir City and given the opportunity to organize and direct a full-time Parks & Recreation Department. This is a position that I've had the honor of fulfilling for the past 30 years. In those years, I have accomplished many personal goals which have benefitted the Citizens of Lenoir City and Loudon County - some of which include Town Creek Greenway, Lenoir City Pool (Claire Donahue Aquatic Center), Wampler Keith Park, Lenoir City Central Park (all-access playground), Rockiní the Docks, Downtown Street Festival and countless other programs and events.
My county public service experience began with being elected to the Loudon County School Board in 2006. After serving one four-year term on that board and gaining a solid understanding of the inner workings of the Loudon County Education System, I made the decision to run for a seat on the Loudon County Commission. In 2010, I was elected 6th District Representative for the Commission. I was re-elected in 2014 and am currently in my seventh year. The last 3 years I have been honored and humbled to have been chosen as Chairman of the Commission by my fellow Commissioners. Through my 12 years of elected experience, my knowledge of Loudon County and how it operates has expanded and has prepared me for this next step.
Therefore, I proudly announce my candidacy for Loudon County Mayor and strongly feel that I have the education, knowledge and experience to lead the County into the next decade. My hard work and dedication to the job will be unmatched and I ask for your support and vote in May, 2018.
Steve Harrelson