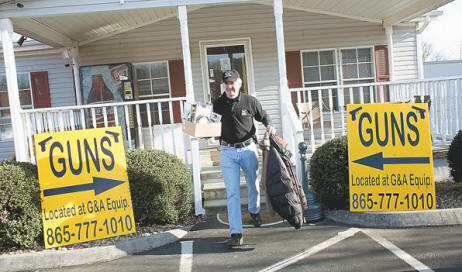 Gun carry permits are most common in the northern and eastern reaches of Knox County and in rural communities around Knoxville, but the number of permit holders with Knoxville addresses has been rising significantly, based on public records in a database that went online last year.
The database posted online by the Commercial Appeal newspaper in Memphis allows anyone to search the state registry of gun permits by name, city or ZIP code.
From Abaed to Zimmerman, it contains the names of almost 11,200 permit holders who list Knoxville as their address - an increase of more than 20 percent since July 2008, when that figure was just more than 9,200.
"I'm surprised the number is not growing even faster," said Garell Foshee, owner of Personal Defense Options in West Knoxville.
Foshee, who teaches classes required to obtain a carry permit, said he has seen a big increase in the number of applicants.
"I had a class of 70 students go through (on a recent) weekend," he said.
The classes include men and women of all ages, Foshee said. Some are concerned that the nation's economic downturn may increase crime, and they want to be prepared, he said.
In Knox County's ZIP codes - which include slices of some adjoining counties - more than 14,000 people, or 3.5 percent of the total population, have carry permits, based on the gun database and U.S. Census figures from 2000.
There's a permit for at least 4 percent of the population in surrounding counties, and the per capita figure exceeds 5 percent in Loudon and Roane, meaning there's a carry permit for more than 1 in 20 residents in those two counties west of Knoxville.
Some pro-gun activists have criticized the Commercial Appeal's database as an invasion of privacy. Others fear the list could be used by criminals to target gun owners or even those without permits.
But a national anti-gun violence group argues that only by having open access to records can the public be assured of proper handling of handgun permits.
And Frank Gibson, executive director of Tennessee Coalition for Open Government, notes that openness has led to disclosure of convicted felons obtaining the permits.
Knox County Commissioner Greg "Lumpy" Lambert acknowledges most people who read the newspaper know he carries a gun, so the list really doesn't bother him. He said he supports the First Amendment and access to public records.
"What I'm concerned about is that it endangers those not on the list," he said.
"If I was a criminal, I'd put together a database of those who are unarmed," Lambert said. "Or, if I was targeting a home, I'd pull up in front of the house and use my iPhone to access the Internet and determine whether those in the home were armed."
The database only reflects who has carry permits, however. It wouldn't tip a criminal on whether homeowners might have handguns but no permits, or who might possess long guns in a home.
Those opposed to access to permit records also argue those in the illegal arms trade could target homes where guns are likely to be stored.
The Commercial Appeal opted not to list the addresses of permit holders, although they could be available using a phone book in many cases.
Meanwhile, a group advocating a crackdown on gun violence favors openness.
"We feel strongly that the state should not keep records secret," said Brian Malte, director of state legislation for the Brady Campaign to Prevent Gun Violence, named after Jim Brady, President Reagan's press secretary who was shot during an assassination attempt. "The press needs to be able to audit the records to ensure the system works properly."
Malte said there have been cases in states such as Florida in which officials did not properly screen handgun permit applicants; it was only through the scrutiny of media and the public, he said, that it was determined certain people got permits but should have been legally denied.
Daniel Martin, who works in sales at Coal Creek Armory in West Knoxville, said he's only heard a few complaints about the database from local carry permit holders. He agrees thieves could use it, but he's also concerned it's online at the Commercial Appeal's Web site under the heading "public safety," near a list of convicted felons, which could make it appear permit holders pose a risk to the public.