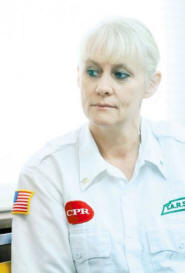 The times are changing at Greenback Volunteer Rescue Squad.
Since January, the squad has been under the direction of its first female captain, Susan Osburne, a 14-year member of the squad.
She worked her way up through the ranks, including being a squad member, unit director, secretary and first lieutenant before being named captain.
Osborne is also the only female captain among the other rescue squads in Blount County.
The Greenback squad is in a growth mode.
"Last year we only had 12 members, but just by asking the younger ones to come in we now have 22 members. We're always looking for more volunteers. We'd like to get younger members so that they can take over when we leave here," Osborne said.
"It's hard to find volunteer for a nonprofit organization anymore," she added.
The squad participates in search and rescues, dragging operations and swift water rescues. They are working to get First Responder status and will be taking a vehicle extrication course in November.
On Aug. 25, the squad participated in a dragging operation with Loudon County Rescue Squad in which the body of Justin Caywood, 23, of Blount County, was recovered.
He had jumped off the 50-foot rock formation known as "the bluff" off Jackson Bend Road into a portion of Tellico Lake Saturday night.
The squad usually works at least one dragging operation a year, locally or in the region, she said.
Rescue One boat
The squad purchased a Rescue One boat last year, a boat designed to link to other boats to cover a dragging area more thoroughly.
"That is the only boat designed specifically for dragging," said Unit Director Roy Goddard.
The squad also has a large van that is used to pull the boat, two 4-wheelers for search-and- rescue operations that are pulled by a Jeep, a van to take people to the doctor and a crash truck.
Osborne said the most difficult case she has worked was that of a 10-year-old boy and his grandfather who got too close to Watts Bar Dam and drowned. At that time her son, who is now 20, was also 10. "I still think about that from time to time and that was 10 years ago," she said.
Goddard has been a member of the squad since it organized in April 1967.
A supporter of Osborne, he said the most devastating event he can remember was a wreck at the intersection of Tenn. 95 and U.S. 411 South back in the '80s.
Two cars collided in the intersection and then one of the cars hit a tractor-trailer head-on.
What he recalls is the damage to the people, two of whom were killed.
Calls are up
Of Osborne, Goddard said, "She's doing a good job. She presides over our meetings, takes part in all squad activities, keeps order at squad meetings and works will all other organizations that support and work with us."
Osborne said calls this year are ahead of 2012, when 500 calls were received.
With the new Greenback High School "we will need all the help we can get because more people will be moving to the area and that will mean more calls."
Osborne said she would like to see cooperation grow between the Greenback and other squads and agencies in the area.