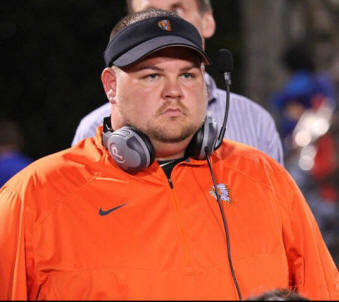 Dustin Lyles has been promoted to head football coach at Greenback, replacing former coach Jason Hicks. But it's more a change in title than change in direction.
"For the kids, it's a change in leadership but not a change in philosophy," Lyles told The Daily Times Tuesday. "We're still going to strive to make the kids become better men. Really focus on making high character student-athletes."
Lyles, 27, has been the run-game coordinator, assistant head coach and offensive line coach at Greenback the last two seasons, serving on Hicks' staff. The Lenoir City High School and Maryville College graduate also has previous coaching stops at Farragut and Loudon.

"It's been extremely exciting," Lyles said of the promotion. "We're blessed to have this opportunity. Really want to thank Mr. Casteel (Greenback principal Mike Casteel), our athletic director Mrs. (Lori) Blakenship for believing in me, providing me with this opportunity.

"I've had great support from the current coaching staff we have," Lyles added. "Just overall, I've been overwhelmed today with emotion. It's just a great opportunity. Greenback truly is a special place that my wife and I have grown to love. We look forward to just being a part of it and being part of the community."

Hicks resigned as head coach on Feb. 13 for personal reasons. When the news broke, Lyles knew it was a job he wanted.

"I hated that Jason left," Lyles said. "I felt like Jason did some great things for this school. He built a great foundation. When I found out that he was leaving, obviously I was extremely interested and applied immediately for the job."

Lyles said he won't be making any additions to his current coaching staff, keeping continuity within the program.

Greg Ryan will remain as offensive coordinator, hired by Hicks before leaving the job, and Dustin McCarter will remain in place as defensive coordinator.
"There was just the thought process," Lyles explained, "if we can keep the staff together, be stable for the kids, and continue building on the foundation that previous coaches have laid — we're not going to change a lot, we're going to change a few things — we'll try to continue to reach that ultimate goal."
What new wrinkles there will be will come with Ryan's offensive scheme.

"We're going to change the offense a little bit," Lyles said. "We're going to do a few things to mix up some of the things we've done in the past."