Greenback native serves as Army warrant officer longer than any other

By Linda Braden Albert
of The Daily Times Staff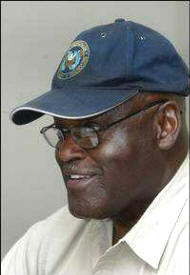 Chief Warrant Officer 5 James A. Jackson had no idea when he entered the United States Army in June 1964 that he would make history. But the Greenback native did just that upon his retirement earlier this year, acknowledged as having been in federal service longer than any other warrant officer in the United States Army Ordnance Corps.

Jackson joined the army in 1964 as an enlisted soldier, and after attending basic and advanced individual training at Fort Gordon, Ga., he was assigned to the 504th Signal Company in Mannheim, Germany. He served as a field radio repairman with duties in Germany, Fort Gordon, Vietnam, Korea and Fort Benning, Ga. In August 1980, Jackson was appointed as Warrant Officer 1, electronics communication technician, and proceeded to move up in rank due to hard work, self-discipline and continuing education.
From farm boots to boot camp

Jackson was born Jan. 21, 1946, to William Henry Jackson Jr. and Lelia Thompson Jackson, both now deceased, and raised in Greenback on his father's 65-acre farm. Eight children made up the family.

"I worked on the farm there, taking care of the animals and things there, until 1964," Jackson said. In addition to the farm where the family made its home, the elder Jackson also owned a 115-acre tobacco farm and was employed at ALCOA Inc.
Jackson learned many life lessons from his parents.

"My father told me some things I should do. As you grow up, especially when you're working, always save some of your money," Jackson recalled. "He said to always pay yourself first before you pay anybody else. I did that. He told me to save at least half of my money and I was saving half of my earnings before I retired from the Army. I'm still saving money."

Jackson said the biggest lesson he learned from his parents was to treat others with respect.

"First, he taught us love and respect," Jackson said of his father. "Respect is very important in life. I live by that. I respect everyone, try to love everyone and live a happy life. That's what he told us to do. Be respectful, treat people nice and kind, and in return, it's always rewarded to you.

"If you have a nasty attitude, people turn their back on you, but if you show respect, love and kindness, doors open up for you that you really don't even expect to open up for you."

In 1964, Jackson decided to enlist in the Army.

"I had two brothers that joined the Army, and I just liked what they would come home and tell me about the Army," Jackson said. "I came in, stayed three years, got out for four months, got back in and stayed for the rest of my life."

Jackson said moving from farm work to the Army life wasn't difficult.

"It's just like, you follow your parents' instructions, you go into the Army with instructions you have to follow. If you follow instructions, it's very easy to train to what they want you to do. If you don't follow their instructions, it's like your parents. They would chastise you if you didn't do what's right. The Army would chastise you, too.

"Good training brings a good product at the end," he said. "My father, he trained us well and I applied it in the military, what he taught me. It brought me from a private all the way to the top, as a CW5, in the Army."


Persistence pays dividends

Jackson worked as a field radio repairman, working on all the ground-side communications for the Army. He moved up in rank quickly and soon became a supervisor.

Thanks to the encouragement of his mentor, Chief Warrant Officer Henry Riley, Jackson put in his packet to become a warrant officer. He was turned down twice, but continued his education and applied again. The third time he applied, in 1980, he was selected.

"It took me three times," he said. "I wouldn't give up because I knew that I was officer material and I knew the Army needed a guy like me to do that. That's why I kept putting in, and the third time I got selected."

Jackson enjoyed his work, in particular his duties as chief of the Warrant Officers Training Division, in Huntsville, Ala. "That is where I developed new warrant officers, trained new warrant officers, as a technician so they could go out and do their job and do it correctly," he said.

Jackson, now 62, retired in March. His last duty post was at Mannheim, Germany, the same place where his Army career began.

"I love the Army," Jackson said. "I stayed as long as I could, with 43 years, eight months and 24 days of service."

He lives in Whites Creek, a suburb of Nashville, with his wife of 40 years, Joanne. They have two daughters, Denise and Careasa, and six grandchildren.