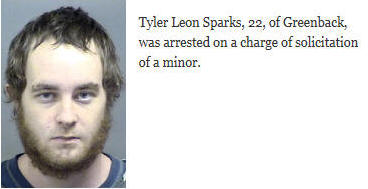 Greenback man is facing charges after allegedly sending nude photos to a teenaged girl online.
Tyler Leon Sparks, 22, McConnell Road, is accused of sending photos of his genitals to a 14-year-old Maryville girl over Facebook. Sparks was arrested by Blount County Sheriff's Office deputies Thursday on a charge of solicitation of a minor by electronic means.
Additionally, Sparks is charged with three charges of failure to pay a fine and two counts of violation of probation granted after misdemeanor convictions. He is being held without bond pending a 1:30 p.m. Wednesday hearing in Blount County General Sessions Court.

Authorities launched an investigation on Feb. 15 after a Maryville man came forward to report finding inappropriate conversations and nude photos on his 14-year-old daughter's Facebook page, according to a Sheriff's Office report. The online conversations were between Sparks and the teen girl, the report said.

In them, Sparks asked the girl how old she was, to which she replied by telling him she was 15, the report said. Sparks told her she was a little young but proceeded to send her two photos of his genitals, the report said.

On Thursday, deputies visited Sparks' residence in Greenback and took him into custody. The investigation is ongoing.