Greenback 6-year-old collects 311 teddy bears for Children's Hospital patients
Stephaney Myers-News Herald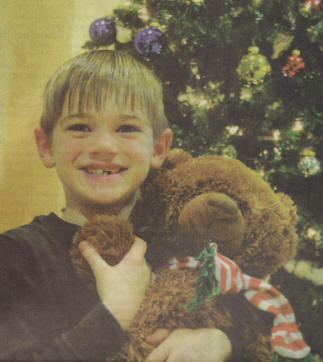 For 6-year-old Michael Payne Jr., Christmas means putting a little cheer in the lives of those who are hurting.
The Greenback School kindergartener used all of his saved money to buy teddy bears for local boys and girls going through cancer treatments at East Tennessee Children's Hospital.
When asked why he decided to collect the teddy bears, Michael said, "Because I wanted to help kids with cancer...so they can be happy."
He collected 311 teddy bears for patients for Christmas.
"He said, 'Mommy, can we buy teddy bears for the sick boys and girls with boo boos like daddy and Kylie?'" Michael's mom, Jessica, recalled. "I cried when first asked me. I was so proud and it was really sweet to see a 6-year-old say something so sweet.
"He just does it for the kids," his dad, Michael Payne, Sr., said.
Michael's dad is a cancer patient and his godmother's daughter, Kylie, was diagnosed with a brain tumor last year. Michael and his mom started buying teddy bears at the beginning of November.
"We were watching a show on TV. The little girl was sick and had to go to the doctor and they gave her a teddy bear. He had seen (the show) the day before. But I don't know if that was it. He didn't say," she said.
Through out his life, Jessica said, Michael has been a different kind of kid--always saving his money. "He saves his money from the tooth fairy, birthday parties..." she said.
"He actually got really lucky with the tooth fairy. He lost an unexpected first tooth. The tooth fairy didn't have change in the house and all she had was a $20 bill, so he got a $20 bill for his first tooth," Jessica said.
"My grandfather would pay Michael to do his chores and he saved that money," she said. "Over the summer he would want a slushie but he would say, 'No, I don't want to spend my money'."
Michael wasn't alone in his efforts. His school got involved.
"I sent his teacher a letter and told her what he was doing. Some of his classmates and some faculty at the school donated as well," she said.
What started out as a one child's effort turned into a school and community cause. And it went viral.
Jessica had posted a Facebook status about her son's good Samaritan deed, saying "how cute it was" and how proud she was of him and asking if anyone wanted to donate a new teddy bear by Dec. 19.
"A friend of mine through Facebook--I never met her personally until Monday--Carolynn, we were brought together because of her husband. He had cancer as well, (Collecting the teddy bears) was something that touched her as well. She asked if I would mind if she helped collect teddy bears," Jessica said. "She works at Subway and she told some people that are higher up in management about what we were doing and Subway donated some of the teddy bears she brought. Her kids collected some, too.
Another Facebook friend responded donating "very many teddy bears," Jessica said, calling her a "special angel" and a "Secret Santa."
Jessica feels whole experience has been "a blessing" for her family.
When asked if Michael thought he would collect that many teddy bears, he said, "Yeah."
"I imagine we would take 30 or 40 to the hospital so I was excited and blessed of Michael. To be 6 and thinking about other kids..." Jessica said. "When we got them all and counted them, he said, 'Mom, I can't count that high. That's a lot'."
In fact, carrying the 311 teddy bears required huge yard bags. "I think we carried eight of those big bags and three boxes of teddy bears," she said.
Carolynn and her two children helped Jessica and Michael deliver the gifts to the hospital.
"We ended up with the same amount in each vehicle. I know I had to make room for Michael for him to ride to the hospital," Jessica said with a laugh. "He had a bag on each arm carrying them in and each bag was bigger than him."
The experience not only made Jessica proud of her son, but also brought her and Facebook friend Carolynn closer.
"I have been friends with her on Facebook about a year, but she is someone who has been there and knows what I go through on a daily basis. We are good resources for each other," Jessica said. "Her children were older when their dad passed away...It was a real blessing to meet her and her kids."
The five teddy bear volunteers couldn't hand-deliver the gifts to the children because most cancer patients going through chemo treatments have compromised immune systems. The teddy bears were originally meant for pediatric cancer patients, but because of the volume they were able to distribute throughout the hospital located near the University of Tennessee campus.
Ellen Liston, director of community relations at East Tennessee Children's Hospital, said she is humbled by their efforts.
"We get an unbelievable response from the community at the holidays for the people who have to be here during the special time of year. It can be difficult not only for the child here but their family," Liston said. "Someone can take a teddy bear or a toy to that child and it just brightens up their whole experience.
"It will literally touch hundreds of families who have to be here whether to pay a visit just on Christmas Eve or Christmas Day, or if they have to stay for an extended time," she added.
Michael plans to save his money next year for Christmas teddy bears.
"I think it is very important to teach children, especially at this age, that doing things to help others is very important. I was really, really thankful he wanted to do it again next year," Jessica said. "I'm really proud of him. I hope he continues to grow and he will keep the same rules and values and be a giving person. I think one good deed at a time can change the world."