Greenback's new sense of pride at Greenback; summer improvements encourage teachers, students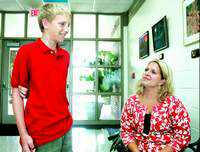 By Matthew Stewart
of The Daily Times Staff

Improvements made over the summer have produced a heightened sense of pride at Greenback School, teachers and students agree.

"This has been the best first week of school we've had in a long time," said Nancy Clinton, a third grade teacher.

"Everything seems to be positive and upbeat. Everybody is excited about this year, and the students are ready to be back," added teacher Merry Spafford. Students started their 2008-2009 school year Aug. 14.

"There definitely is a renewed spirit (in the air)," said Whitney Cox, a fifth and sixth grade teacher. "After all the bad press and negativity last year, teachers had to realize the negativity wasn't (directed at) us," she said.

"Greenback is such a community-based, family-oriented school. It's kind of nice to know things are changing, and we're stepping up as a community and school."

The enthusiasm comes in the wake of the Tennessee Department of Education's Adequate Yearly Progress (AYP) report. These reports serve as a measure for whether schools and districts are making "adequate yearly progress" toward the goal of 100 percent of students being proficient in reading and math, and a 90 percent graduation rate by 2014.

Greenback School was recently labeled under the "School Improvement 1" designation, because the school failed to meet its graduation rate goal for the 2006-2007 school year. The high school had an 89.2 graduation rate, which fell short of the school's 89.5 percent goal.

Greenback High School, however, faces unique challenges with its graduation rate. Every student in Greenback's graduating class accounts for roughly 2 percent of the total graduation rate, because the school normally has 50 seniors, said Principal Joey Breedlove.

The school's graduation goal is also only 0.8 percent below the federal standard set by the No Child Left Behind Law, which will become the national graduation standard for schools in 2014.

The school's staff and students are excited about the many changes and improvements made at the school over the summer.

Studies have declared the current school building unsafe and outdated, but Loudon County officials haven't agreed on a plan for replacing the building. However, the Loudon County Board of Education recently approved $800,000 for capital projects at seven schools in the system, and Greenback School will receive $105,000 of this money for new gym bleachers.

In November 2007, the Fire Marshal's Office imposed a fire watch on the school. Firefighters had to patrol the building daily until the end of last school year.

The installation of a new heating, ventilating, and air conditioning (HVAC) unit this summer has put Greenback School back in good standing with the state. The HVAC unit was purchased with funds from the Loudon County Commission's capital budget.

Students, however, were equally impressed with some of the smaller changes, such as the paint touch-ups and new teachers. "There's been lots of new changes. My teachers (from last year) are teaching different subjects, and they have a lot to offer," said Danny Fender, a sixth-grader.

The school's snack bar and several classrooms have been painted, said Fender. "It really looks better, and it's something we can all enjoy," he said. "The school is really stepping up to the new agendas, and we have really good teachers."

Community work day

Greenback School is also having a community work day Saturday. Volunteers will be doing odd jobs and clean-up around the campus.

"We need to do something to help the school -- lots of things need attention. The community has expressed an interest in the past and we ran with it this year," said Breedlove.

Breedlove had served as the school's assistant principal until this school year. He has already organized a teacher workshop to address the graduation rate and purchased several laptops for credit recovery courses.

"We have a hurdle to get over with the graduation rate," said Breedlove. However, "everybody is on board, and we're all moving in the same direction. If we all (stay focused), great things will happen, especially considering all our great results anyway," he added.

State writing exams are taken in grades 3, 8 and 11. Greenback has received all A's in all three grade levels. And students in grades 3-8 scored all A's and one B on their 2007-2008 TCAP achievement scores, noted Breedlove.