Girl kicking for Lenoir City football team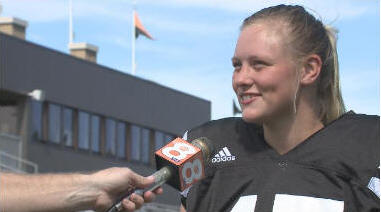 LENOIR CITY, Tenn. (WVLT) Haley Abstan is the leading scorer for the Lenoir City football team. The senior soccer player was asked two weeks ago to help out and join the team as the kicker.
Not only did she say yes, she connected on a 21 yard field goal in the Panthers first game. Haley's 3 points were the only points for the Panthers, so she is currently the teams leading scorer.
Haley has accepted a scholarship to play soccer for UT-Chattanooga next year. But, playing for the football team is making her senior year even sweeter.
Lenoir City plays host to Loudon Friday night in the Varsity All Access game of the week.