FRANK ANTONIO MONTANA aka "FRANK CRUZ"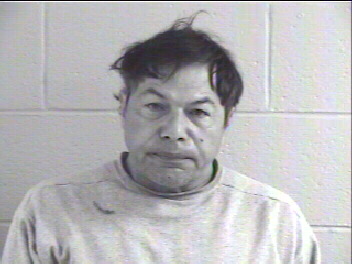 Loudon County Sheriff Tim Guider and his investigators are asking the public for any information on a Philadelphia, TN man they believe has been running cons and selling weapons, possibly dating as far back as 2005 in this area, whom they have found is a convicted felon whose name and fingerprints did not match in a national database. Loudon County investigators became involved after receiving information that the man was engaged to a woman in Lenoir City and he had sold weapons in the area.
Frank Antonio Montana, 52, of Pattie Gap Road in Philadelphia has to date been charged with being a felon in possession of a firearm. After further investigation, it was discovered that fingerprints on file with the FBI came back showing the name "Frank Cruz". On record felony arrests include Criminal Sexual Conduct - First Degree Penetration, for which he was found guilty in Minnesota. Additional information from other states shows several other aliases, warrants, and many other charges, including document fraud and falsely impersonating an officer. Montana has presented himself to many in the area as an ex-marine, a 9/11 survivor as a firefighter, a law enforcement officer, and a pilot, none of which are true. He was also found to be in possession of a Master's Degree diploma from Eastern University in Pennsylvania which was confirmed to be forged, and also false fire training certificates from the states of New York and Tennessee.
Montana was taken into custody on February 24th in Lenoir City at the residence of the fiancée. At the time of the arrest, Montana was given several verbal commands that investigators needed to talk to him about an ongoing investigation. He then kicked a padlocked door open in the basement area and tried to flee, but was apprehended by deputies. He was shown the book-in photo from the Minnesota charges and did admit it was him, but refused to answer any questions. He was taken into custody without further incident.
A 2000 Mercedes found at the residence, which was the vehicle that Mr. Montana had been driving, was registered to a second fiancée in McMinn 2
County. When she was interviewed by investigators, she said that when she met him, Montana told her he had been a Marine for 30 years and had a photo of himself in uniform. She also told investigators that she had given him over 100 guns and several expensive items of jewelry for safe keeping. She had recently asked him about those items and he told her he had them in a safe place. On the date he was arrested he had told her he was in Florida working on some business deals. He has allegedly scammed her out of several thousands of dollars in weapons, jewelry, and vehicles, and instead of keeping them "safe" he was actually selling and pawning the items and allegedly selling on Craigslist. His past convictions would not allow him to even possess a firearm and therefore may have violated state and federal laws. To date only one of the weapons has been recovered.
Montana, who has claimed to have been born in Hawaii, is known to have lived in several areas of Florida, New York, New Jersey, Maine, Minnesota, Georgia and Tennessee and has a history in most of those states. Other aliases found so far are Frankie Cruz, Frank Ernest Cruz, Antonio Francisco Montana, Frank Perez, Frank Anthony Montana, Frank Montana, and Frank Antonio Montana.
Montana also has warrants pending in Roane County on felony theft charges that stem from the investigation. His case is also under review by the U.S. Attorney's Office for possible prosecution.
This investigation is ongoing and more charges may follow. Other charges could include federal firearms charges, theft of property charges, and failure to register as a sex offender. Anyone that may have additional information on this case is encouraged to contact investigators at 865-988-2306.