JILL MCNEAL 6 News Anchor/Reporter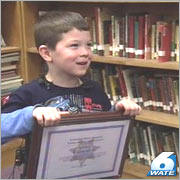 GREENBACK (WATE) - A four-year-old boy in Loudon County got a big honor Friday. The sheriff's office calls pre-kindergartner Xavier Good a hero.
"I saved my sister. I was brave," Xavier said.
Last week when he was playing outside near a pond with his one-year-old sister, Payton, there was nearly a tragedy.
"She was trying to get something out of the pond. She dived into it. She was about to sink," Xavier said. "She was about to drown and there was allergy (algae)," he added.
"I pulled her out like this. I grabbed her hand and I went," Xavier said as he demonstrated pulling her out. "That's how I saved her."
Their mother was 10 feet away at the time and didn't immediately see what had happened.
Greenback School hosted a ceremony Friday to honor Xavier and Sheriff Tim Guider gave him an plaque.
"My name, see?" Xavier said as he held it. "It's for when you help somebody, just like Iron Man."
"Are you going to be as nice to your sister for the rest of your life as you have been so far?" Sheriff Guider asked. Xavier said yes.
Payton was fine after the rescue.