Former Vol Travis Cozart's road to redemption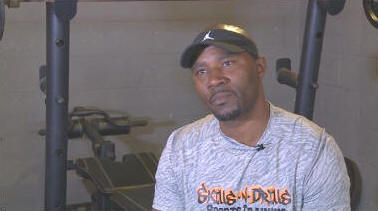 LENOIR CITY, TENN. (WVLT) -- He was known as "The best running back in the south," with NFL potential. Instead he became known for serious crimes. Now Travis Cozart tries to use his past to help others.
Cozart was a star player at Lenoir City High School. He was the top recruit in the state at safety and several top schools wanted him as a running back.
He was recruited by Alabama, Florida State and several other schools across the country. He eventually signed with Tennessee, recruited by Phillip Fulmer. Cozart signed to play for the Vols going into the 1995 season.
In high school, Cozart excelled in multiple sports, eventually landing himself a spot in the Lenoir City High School Sports Hall of Fame.
However, he would never play a down for the University of Tennessee. Cozart was charged with assault after a fight during a July 4 party in 1995.
"I got a call from coach Fulmer and it was be in my office tomorrow morning at 8 o clock," said Cozart. "My heart sunk, I knew by the tone of his voice that it wasn't going to be good."
Cozart was dismissed from the team. He later was able to play football in the Canadian Football League and signed with the Rams. He never played with the Rams due to a 6 year prison sentence.
Cozart over the years became a 6 time convicted felon including two drug charges, three robberies and aggravated assault.
"I had more jail visits than Otis off Andy Griffith," said Cozart.
Because of his criminal past, Cozart is not able to follow his dreams of coaching at a school.
Instead he runs his own program called Skills N Drills in Lenoir City. Cozart said it was his new found faith in God that changed his life.
"Once I got saved, I got the greatest head coach of them all," said Cozart.
Cozart teaches kids of all ages speed, agility and quickness, skills needed in a variety of sports.
"It's all about building a motor in these kids, building a motor in them," said Cozart.
Parents said they trust Cozart and say he has truly changed.
"I believe in my heart that his heart is pure with what he wants to do for the children of Loudon County," said Penny Lindsey, whose son is in Skills N Drills.
Skills N Drills has classes Monday through Thursday from 5:30 p.m. to 7:30 p.m. and on Saturday's. More information can be found on their website.