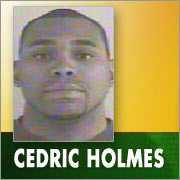 The normal excitement surrounding graduation at Sweetwater High was tempered Thursday and Friday with the news a staff member had been charged with allegedly having sex with one SHS student and sexual battery against two others.
Cedric Holmes, 31, of Loudon, has been charged with one count of aggravated statutory rape and two counts of sexual battery and the investigation is still ongoing.
The 6-foot-5 inch, 240-pound Holmes was an in-school suspension teacher and volunteer assistant basketball coach at SHS.
"It's extremely disappointing to me to hear this at what is a normally good time of year," Monroe County Director of Schools Mike Lowry said Friday.
Lowry said Holmes has been fired from his job at SHS.
The director of schools said Holmes began working for the school system in August 2007 as a non-certified employee and had passed all the background checks school employees must go through.
"There were no red flags," Lowry said.
Sweetwater Police Detective John Scruggs on May 13 received information of inappropriate sexual contact between Holmes and underage female students.
Scruggs, Chief Eddie Byrum and Detective Marty Kyle determined Holmes had sexual intercourse with a female SHS student but the incident occurred in Loudon County, SPD said in a press release.
Detective Patrick Upton of the Loudon County Sheriff's Department was notified and immediately conducted his own investigation resulting in the charge of aggravated statutory rape in Loudon County.

Further investigation led to information about other alleged victims at Sweetwater High School, police said.
Investigators said they determined sometime around March 15 and the following weeks, Holmes inappropriately and illegally touched and kissed a female student under the age of 16 on approximately 10 occasions at Sweetwater High.
Scruggs consulted with the district attorney's office before charging Holmes with sexual battery by an authority figure.
His investigation Friday led to a second charge of sexual battery for alleged crimes against a third female student and the investigation is still ongoing, the detective said.
School Resource Officer Laura Perian, Principal David Watts and other school officials assisted in the investigation, police said.
Upton said Holmes has not been charged with the more serious charge of aggravated rape by an authority figure because he does not believe that the sex with the student that took place in Loudon County was coerced and it did not happen on school grounds.
If anyone has further information or knows of any other possible victims, contact Scruggs of the Sweetwater Police Department at 423-337-6151.
Lowry took the news extremely hard because he said Sweetwater High has made good strides in its graduation rate this year and he is excited about other programs to improve the school.

He said the safety of students is always a top priority in the school system.