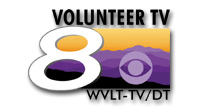 Former Loudon Deputy Arrested in Maryville
Maryville, Blount County (WVLT) - A former Loudon County Sheriff's deputy is in the Blount County Jail facing multiple charges after what authorities say was some bizarre behavior.
Fifty-nine-year-old John Calvin Houston is charged with resisting arrest and disorderly conduct.
It stems from a fight that happened Monday at Maryville's Atchley Apartments parking lot.
When authorities arrived, they found Houston screaming at a woman holding a butcher knife.
She told authorities she feared for the safety of her and her child as Houston tried to enter her apartment.
Authorities arrested Houston who seemed disoriented and confused, stating he was trying to get to his own apartment.
Houston also stated he was taking numerous medications for health reasons.
_______________________________________________________________________________
Dailey Times Maryville Arrest Report
John Calvin Houston, 59, Atchley Drive, Maryville, was arrested by Maryville Police officers at 3:06 a.m. June 18 on charges of disorderly conduct and resisting arrest. According to a Maryville Police report, officers responded to a call at Atchley Apartments in reference to a male subject who appeared to be under the influence of alcohol or narcotics. The caller said the man was beating on cars in the parking lot and beating and kicking on several doors in an apartment building. Officers reported that upon their arrival they observed a male fitting this suspectís description standing outside the breezeway of the apartment building. When the officers started to approach the man, he allegedly entered the breezeway and started to yell and scream at an unseen individual. Officers reported observing a lady standing outside her apartment with a butcher knife in her hand. The woman told officers the man tried to kick her door in and she was afraid for her childís safety. Officers reported that when they approached the man he had his back to them and his hands in his pockets. The officers reported they gave verbal commands to the man to remove his hands from his pockets, but he didnít comply. Officers reported they had to had grab him by his shirt and pull him to the ground in order to detain him. Houston allegedly struggled while being placed under arrest. Officers took him to the Blount County Jail where he was free on a $1,000 bond pending a 9 a.m. June 19 hearing in Blount County General Sessions Court.