Place yourself in the following situation:

You are a scofflaw. You have an outstanding traffic fine you haven't paid in Lenoir City municipal court. It's been six months since you were ordered to pay the fine and costs, and you know there must be a mittimus warrant for your arrest.
Then the thing you fear happens: You are pulled over by the police in Sweetwater, or Maryville, or Knoxville, or some other nearby jurisdiction for speeding. If the officer runs a check on you, it is certain you will be arrested.
The officer reads your personal information into his police radio. You are already wondering who you will call to come post your bond. "Why didn't I just pay it?", you are asking yourself.
After a few minutes the dispatcher transmits to the officer. You are prepared for the worst as he/she answers the radio. Then you hear this:
********** "NO WANTS OR WARRANTS ON THIS INDIVIDUAL" **********
The officer hands you back your license, tells you that this is a warning to slow down, and walks to his/her car. You are stunned.
WHAT HAPPENED?
You have just been the beneficiary of someone else's laziness and/or indifference. Your mittimus warrant was never entered into the National Crime Information Center (NCIC) system. If LCPD had done so, you would've been arrested. But then they would have to send a police officer (to Madisonville, or Maryville, or Knoxville, or wherever you are at) to pick you up and transport you to the Loudon County jail.
Do you suppose I invented this scenario? View the e-mail I received from Police Chief Don White when I inquired about this. When you look at it, notice particularly these words highlighted in yellow:
The requirements for entering a mittimus into NCIC:
Fines and costs must exceed five hundred fifty dollars ($550.00).
From: Don White
Subject: Re: Mittimus Warrants
To: davedivelbiss@yahoo.com
Date: Friday, August 8, 2008, 11:05 AM
David,
I wanted to explain the process for mittimus warrants. Mittimus warrants are managed by the city court clerk and the police department is responsible for extradition of the violator.
The requirements for entering a mittimus into NCIC:
1. Fines and costs must exceed five hundred fifty dollars ($550.00).
2. Extradition of the violator will be a radius of fifty miles from our city limits on warrants under fifteen hundred dollars ($1,500.00).
3. Extradition of the violator will be a radius of one hundred fifty miles from our city limits on warrants over fifteen hundred dollars ($1,500.00).
Due to the shortage of personnel and rising fuel costs, I don't think we will be able to change these requirements anytime in the near future. I wish we were in a position to enter all warrants and extradite from any location but unfortunately the resources just aren't available at this time.
If you any further questions please feel free to contact me.
Sincerely,
Don White
Lenoir City Police Department
(Thank you, Don, for a polite, professional, and thorough response.)
If a mittimus warrant has to be for an amount over $550 before being entered in the NCIC system, just how many, or what percentage, of the city's mittimus warrants are never entered? Just how many of them are even for that amount?
I asked the city court clerk that question, and for some reason could not get a response. But I asked that question of another person who would know. Here is the answer:
=============================================
From: Debbie Cook
Subject: Re: I need...
To: davedivelbiss@yahoo.com
Date: Saturday, September 6, 2008, 9:06 PM
Dave...
They do not try DUI, theft over $500, or anything else like that. The most expensive fine and cost that the city has would add up to about $250.00.
Deb Cook
======================================================
Therefore, NONE of those warrants are entered into the NCIC system.
Question: If uncollected fines & costs accumulate, and somebody perceives it to be a problem, do they hold the Police Department responsible? (Many of you know the answer already)
Answer: No! They blame the city recorder/treasurer/court clerk!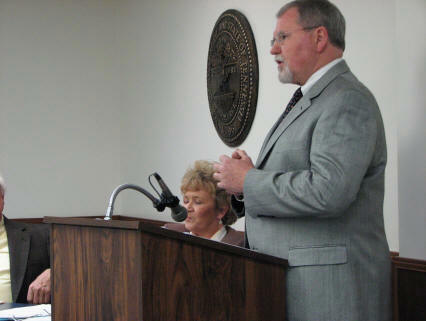 Some of you will remember when Judge Terry Vann went before city council and demanded that Debbie Cook be removed as court clerk, waving a report that he said was a summary of the uncollected fines & court costs. At the time councilman Tony Aikens acted surprised, and began asking Judge Vann questions, leading and egging him on in his verbal assault.
Does Tony Aikens, as Chief Deputy Sheriff of Loudon County, run his own department this way? Does Aikens expect court clerk Lisa Niles to collect the fines & costs on the county's mittimus warrants?
The answer is no. He fully expects his deputies to collect them, and the proof is found in numerous issues of the Daily Edition. They travel to arrest them at the Blount County jail, Roane County jail, Knox County jail, etc.
If the Sheriff's Department operated the same way Lenoir City does, you can be sure it wouldn't take long for the county to accumulate a list of uncollected fines much bigger than that stack of papers Judge Terry Vann waved around.
Who believes that Tony Aikens and Terry Vann didn't understand this?