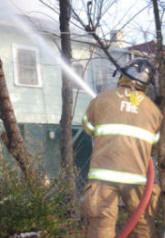 A Lenoir City man died in an early morning fire Friday, according to officials.

William "Little Bill" Miller, 56, was the only victim of the fire, which also completely destroyed the home at 510, W. 2nd Ave., according to Lenoir City Deputy Fire Chief Tony Brock.

The fire department received the call at about 6 a.m. and when they arrived found the second floor of the home already fully involved, Brock said. There were heavy flames and heavy smoke coming out of the structure.

As of about 10 a.m. Friday, Brock said they were unable to confirm if anyone was in the house, though a male in his 50s was unaccounted for, and were unable to enter the unstable structure because of the possibility of the roof collapsing. "The roof has fell in on the second floor," Brock said.

The Lenoir City Fire Department was the only agency to respond to the scene, though the Greenback Fire Department came to Lenoir City to man the fire stations in the event of another incident.

Officials from the state fire marshal's office were on the scene Friday afternoon and assited LCFD in entering the second floor of the home, where Miller's body was found. The investigation into the fire was completed Friday and the cause was determined to be accidental.