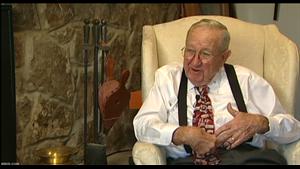 wbir.com-Wampler Farm Sausage is a staple on store shelves across the country.

"Sausage is our #1 product," said Ted Wampler. "We have many different flavors, many different brands."
For the Wampler family, sausage and meat is a way of life and has been for three generations now. However, they had a humble beginning.
During the depression, Riley Wampler started the business out of necessity.
"My dad built a small tin shack out by the creek bank for a total cost of $38."
He dressed hogs for neighbors in the community and then invested in a few himself.
"They had to grind the sausage with just a hand grinder."
He peddled sausage door to door.
"He sold pork sausage for 5 cents a pound. He sold pork chops for 6 cents a pound. I don't remember what he got for pork roast. But now, we have gone up on the price of sausage."
The slaughter house closed, but then the war came along.
"During World War II, little mom and pop stores sprung up everywhere, so my dad suggested we reopen that slaughter house," said Wampler.
Ted Wampler had just graduated from high school. He planned to be a mortician but changed his mind.
"I had $1,100 and my dad matched it. Money was hard to come by. My $1,100 mostly came from picking blackberries and fish bait."
His cousin Harry Wampler joined in.
"We've all worked hard."
And together they grew the Wampler brand to the sausage success it is today.
"Today we have a modern plant. We employee over a 160 people down here."
Ted Wampler credits hardwork, faith in God and surrounding himself with smarter people. He even continues to befriend the competition.
"The only difference, we've just got a better sausage than they've got," laughed Ted Wampler.
And, he would know. Ted still eats it twice a week. But not everyone in the family shares his taste.
"I may have one granddaughter that's leaning toward being a vegetarian. That's bad news."
The shack his dad built is still standing and within sight.
"We keep it to remind us what can happen if we quit putting out a good product. We can be put back in the $38 shack."
It's an outcome Wampler doesn't even want to think about.
"I only know how to do two things- grind sausage and pick blackberries. And I hope people keep buying sausage because I don't want to go back to picking blackberries if i can help it."
Wampler Farm Sausage, born in Lenoir City...
"This is home to us. It would take a lot of nerve to leave home."
HomeGrown in Tennessee.