Right on the heels of Lenoir City Mayor, Tony Aikens' letter to all LCUB employees where he says that his "administration is committed to open and frank communication" and intends to "open and maintain a candid dialogue with our employees" comes a curious meeting.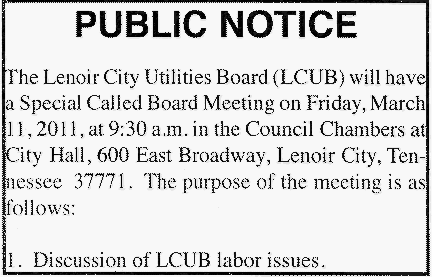 The meeting was held Friday but behind closed doors. Allegedly, LCUB and union officials had been told ahead of time that the meeting would be held behind closed doors so they need not attend.
As most everyone knows, all meetings of any public body must be open to the public under the states Open Meetings Law, The Sunshine Law. A limited exception to the open meeting law is provided by case law due to the judicial doctrine of attorney-client privilege; a legislative body may meet in closed session with their attorney or any other attorney representing them to discuss with the attorney pending litigation involving the governing body, but no discussions among members of the body as to the action to be taken or votes or decisions may be made in secret, nor any other matters discussed.
Even though the notice above states the meeting was for discussion of LCUB labor issues, we must assume that the need for the executive session was due to pending litigation and that there was no discussions among members about anything aside from the pending litigation and that they only communicated with their attorney about the pending litigation. If anything more was discussed such as labor issues and the such, that would be a violation of the law.
Giving elected officials the benefit of the doubt, we'll assume everything was above board. But closed door meetings have a tendency to lead to "the origin of many a problem" as Mayor Aikens stated in his letter.
If in fact Lenoir City officials/power board members are truly looking for ways to cut and control costs for the sake of rate payers, kudos to them. But given the number of new hires that have been made at LCUB just over the past few months, their motives could come into question.