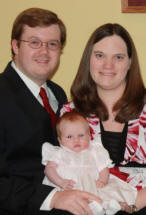 My name is Nick Bradshaw and I am asking for your vote to be the next 6th District Representative on the Loudon County School Board.
As a parent, I know that there are few things more important to my childís development than a good education. As a citizen and tax-payer, I know that one of the most important things we demand from our government is efficient use of our tax dollars. Maintaining a high level of government service under a tight budget is a difficult tightrope act and requires our public officials to demonstrate a high level of responsibility and competence.
My experience in city government combined with my extensive education and personal background make me uniquely qualified to face the challenge of becoming your next School Board representative. Here are a few things about me:
BACKGROUND
∑ I currently live with my wife and daughter on Forest Heights Circle in the 6th District. My wife, Amanda, is a Pre-K teacher in Roane County.
∑ I was born and raised in Loudon County and attended Loudon County Schools from Kindergarten thru graduation.
∑ Upon graduating Loudon High School, I attended the University of Tennessee-Chattanooga for four years, graduating cum laude with a BA Degree in History and a BS degree in Political Science.
∑ After college, I moved to Knoxville to attend graduate school at the University of Tennessee where I earned my Masterís degree in Public Administration.
∑ I have been a devoted Christian and church-goer my entire life. My family and I currently attend Blairland Baptist Church. For most of my life, I attended Stockton Valley Baptist Church in Loudon.
EXPERIENCE
∑ I worked a variety of jobs throughout high school and college from Hardeeís to an editor with the Campus Newspaper.
∑ During graduate school, I took classes at night and worked during the day in the Admissions Office at Strayer University where I was charged primarily with assisting applicants on a variety of issues involved in the admissions process.
∑ Upon completing my Masterís degree, I began work for the City of Knoxville as an administrator in the Plans Review and Inspections Division. In this capacity, I am responsible for personnel issues, maintaining the departmental budget, purchasing, payroll and a variety of other administrative tasks.
QUALIFICATIONS
∑ Iíve spent 19 years in school as a student and another two years as an employee in a University Admissions office, not to mention over three years (and counting) as the husband of a school teacher. This gives me a unique perspective into what it takes for a child to succeed in school and gain admission to college.
∑ I currently work for the City of Knoxville in the Plans Review and Inspections Division where I administer a departmental budget of over $2.2 million. I also serve as the departmental liaison which requires me to maintain working relationships with a variety of other City departments.
∑ 100% of my professional experience is in the field of either education or government. With the City of Knoxville, Iíve worked to develop departmental budgets and Iíve worked to keep my department under-budget on a day-to-day basis. At Strayer University, I worked with high school graduates on admission applications. While a student myself, I volunteered as a tutor/mentor at Loudon Elementary School and at Inskip Elementary in Knoxville.
FAMILY
I am married to my high school sweetheart, Amanda Wade Bradshaw. Our daughter, Hannah Michelle, was born on December 1, 2009. My Dad, Leo Bradshaw, was born and raised in Loudon where he worked at Maremont for 30 years. He is currently the Purchasing Director for Loudon County. Beverly Bradshaw, my Mom, is a Nurse Practitioner and has lived in Loudon for more than 40 years.
MY PROMISE
If there is one thing that I have learned with my education and my experience, it is that good administrators must find a way to continually maintain high levels of service while operating under a sometimes highly constrictive budget and that raising taxes should always be the absolute last resort in solving any problem. My education and experience is geared towards achieving this delicate balance in government.
What Loudon County needs, now more than ever, is to elect responsible and competent officials who are trustworthy stewards of public funds. What I will promise you is that as a School Board representative, I will use every resource available to me to ensure the highest quality education is provided to our children at the lowest possible cost to the citizens of Loudon County.