In English it translates to the "Banquet Hall." To the Lenoir City Police Department it translates to a huge headache.

For those of you who may not get out to the better night spots in Lenoir City, El Salon de Fiestas or the Banquet Hall, is located in the Save-A-Lot shopping center. Lenoir City resident and potential 08 city mayoral candidate, Mike Lewis, opened the Banquet Hall several months ago after the Lenoir City Council changed the policy for renting the Memorial Building which all but eliminated the ability of illegal immigrants from using the Memorial Building. The change in policy came after a confrontation with the LCPD and a large crowd of Mexicans where several officers were attacked when a party got out of control. The Banquet Hall caters almost exclusively to Mexicans

Problems at The Banquet Hall began almost immediately. Numerous code violations from sanitation to over crowding were cited. Ultimately the facility was approved for about 125 capacity. El Salon de Fiestas or the Banquet Hall is usually open only on the weekends and rarely a weekend goes by without the LCPD having numerous calls and complaints from neighbors about the traffic or noise coming from the building which can be heard from blocks away. The parties sometimes go till 2:00am. This past weekend was no different.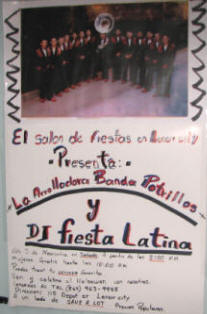 Around 10:00 pm, LCPD received a complaint involving the Banquet Hall. Officers arrived to find a large crowd gathered inside and outside the building. It was immediately determined that the buildings occupancy capacity had been greatly exceeded. Officers reported that staff admitted selling more than 150 tickets to the live band event. This did not include employees or band members. The fire department and Fire Chief were called to respond to determine what action should be taken. Staff were told that the number of people in the building would have to be reduced or they would have to close the building. A large number of the party goers then left the building.
In his hurry to get to the festivities, one perspective partier didn't even make it to the party. Nearly striking officer Joe Foster's cruiser, he found himself spending the night at the jail rather than the on the dance floor.
Regardless whether it's Mexicans, Americans or Martians, a facility like the Banquet Hall is a disaster in the making. With drinking and pot smoking openly taking place in the parking lot, it's just a matter of time before something bad is going to happen. Then questions will be asked and fingers will be pointed to decide who is responsible. While they are doing the best they can, the Lenoir City Police department has neither the resources nor the man power to baby sit the Banquet Hall every weekend and should not have to. I doubt seriously that the majority of the patrons of the Banquet Hall pay any taxes that support the LCPD or any other city services.

City officials should never have issued a permit for a facility like the Banquet Hall. But now that they have the owners and operators should be held accountable for any actions and activities resulting from it's existence. As long as the Banquet Hall exist, so will the problems for the LCPD. Surely no one wants to pay extra just so one nuisance business can continue to operate.

Click here to feel the music.

Click here for DUI arrest. All subjects are innocent till proven guilty. DUI 1 DUI 2