EDA President Pat Phillips Retires? Rehired?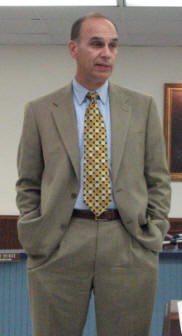 In what could only be considered a strange turn of events, Loudon County Economic Development Agency president, Pat Phillips, asked his board of directors to allow him to in essence retire as a county employee and rehire him an employee of the EDA. The strange request apparently involves Phillips' ability to now draw his state retirement but only if he is no longer a county employee. Phillips wants to keep his job $79,000.00 per year job but as a county employee he would not be eligible to draw his state retirement. However if he was a non governmental employee he could then continue to work but also draw his retirement. Phillips worked for the state before coming to work for the county. The board voted to allow Phillips' request for a change in employment status pending approval of the state retirement board.

The EDA has recently come under fire for failing to have annual audits preformed on their financial accounts. The state comptrollers office has ordered that the EDA books be audited for this and several past years.