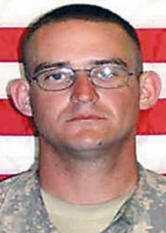 Friends said Nathan Lillard put his life on hold for a second turn at military service.
"He'd been in once before, and he always talked about going back," said Derrick Rubush, a former Knox County co-worker. "He never actually went overseas the first time, and he was pretty adamant about wanting to go. He stayed single, because he said he didn't feel right getting married before he went over there."
Lillard gave his life in that service this week. The 26-year-old Army specialist and East Tennessee native died Sunday in a shootout with rebel forces in the Watahpur district of Afghanistan's Kunar province, according to the Department of Defense.
Four other soldiers died in the attack, all serving with the 101st Airborne Division's 1st Battalion, 327th Infantry Regiment of the 1st Brigade Combat Team.
Lillard grew up in Southeast Tennessee's McMinn County but spent his junior and senior years at Lenoir City High School, where he graduated in 2003, Principal Steve Millsaps said. His death made him the school's first graduate killed in the Afghan conflict, the principal said.
Friends said Lillard had talked of a military career even a teenager. His former teachers remember him as a big, burly boy, quick with a smile, who loved to work with his hands.
"Whenever somebody mentions Nathan, I think of a huge guy like a teddy bear," said David Widby, who taught Lillard in graphic design. "He was an excellent kid, very respectful and soft-spoken. He was a mechanically inclined, hands-on student, really more interested in building and working with machines than in computers. He joined the military while he was still in school. He didn't say a lot, but he did say he wanted to serve his country, even in high school."
Lillard later lived in Knoxville and worked in the warehouse at Modern Supply on Lovell Road. He left to rejoin the Army and finish what he'd begun, friends said.
"If you met him once, you wouldn't forget him," said Rubush, who met Lillard on the job five years ago. "He made it so much easier to come to work, because he always made everybody else smile."
Lillard re-enlisted in November 2006 and arrived at Fort Campbell, Ky., in August 2009. He stayed in touch with friends and family through Facebook and came home on leave this spring.
"It was like he'd never left," Rubush said. "He was like he'd always been. He didn't really talk much about what was going on over there, but he was never negative."
Word of Lillard's death began spreading Monday night. A plane returned his body Tuesday to Dover Air Force Base in Delaware.
Lillard's mother, Helen Hyatt of Athens, Tenn., had gone to claim the body Wednesday. Funeral arrangements remained incomplete.
Sunday's attack also killed:
Spc. Shane H. Ahmed, 31, of Chesterfield, Mich.
Spc. Scott T. Nagorski, 27, of Greenfield, Wis.
Spc. Jesse A. Snow, 25, of Fairborn, Ohio
Pfc. Christian M. Warriner, 19, of Mills River, N.C.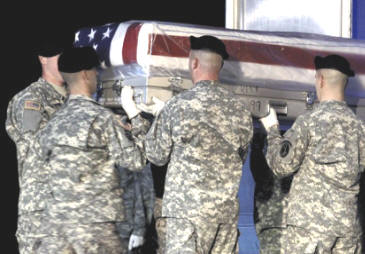 Soldiers carry the transfer case Tuesday with the body of Army Spc. Nathan E. Lillard of Lenoir City. Lillard was killed Sunday in Afghanistan.