East Tennessee is full of treasures. One of those treasures is a 97-year-old woman from Lenoir City who is so proud to call Tennessee home.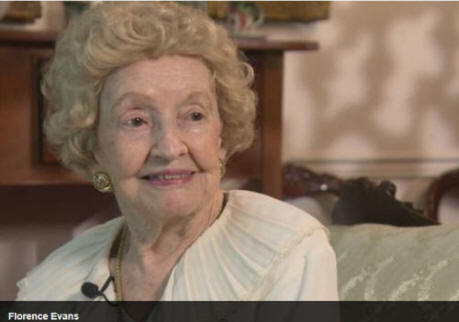 Florence Evans isn't like most people in their 90's. She is fierce and sweet and so talented. She has lived in Lenoir City for almost every one of her 97 years on this earth.
"I was put on the cradle role at Trinity Methodist Church when I was a baby and I have belonged to that church all the years of my life," says Florence.
Florence was a vibrant member of her small community, a mover and shaker with a good sense for business. When TVA expanded power lines to the country, she saw an opportunity.
"I started an electrical business," says Florence. "I would send my employees out there and they would electrify the houses. And I would tell them all about my electrical stuff I had to sell like stoves and refrigerators."
She was in her early 20's when she sold the store and started working for Oak Ridge National Lab.
"We had about 25 of the best brains in the whole country right there working at Oak Ridge but all of that was classified," says Florence.
All the while, she and her husband traveled the world, raised their family, and had a happy life.
When Florence's husband passed, she kept going.
"A friend and I went back to Roane State Community College and started studying. I wanted to be an artist," says Florence.
And so she became an artist, a good artist. So good country legend Loretta Lynn took notice of Florence's paintings of cabins.
"She said, 'Well, I was born in a log cabin in Butcher Hollow, Kentucky.'"
She commissioned Florence to paint that cabin. "Yes I'd be happy to, but we'll have to go to Butcher Hollow, Kentucky," says Florence.
And she did. The cabin was no longer there. Florence painted it strictly off the family's description.
"My husband and I took it to Nashville and she was back in Nashville with George Burns," says Florence. "When Loretta looked down and she saw the painting she said, 'That looks just like my mommy's house'."
Florence paints. She also sings, plays the organ, the piano. She's unreal! So, what's her secret?
"I didn't smoke and I didn't drink. We had to eat the kind of vegetables that was best for you," says Florence. "We minded our parents then. You didn't sass your mother and father back then."
Florence Evans, a dynamo at 97 and a Lenoir City native through and through.
"Lenoir City is a wonderful place! There's wonderful people here and we have churches of all denominations," says Florence. "I have seen it grow and I have loved the people here and I still have friends that remember me."
One of Your Stories. There's no place like this one.