Claire Donahue is the national champion in the 100 fly with a lifetime-best time.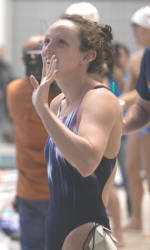 wkusports.com
-KNOXVILLE, Tenn. -
The Western Kentucky University swimming team was well represented in the Friday night's finals at the AT&T Winter Nationals, as five swimmers took part after qualifying in the morning's prelims.
Former Lady Topper and Olympian Claire Donahue highlighted the night, as she won the 100 fly in a lifetime-best 51.69. The Lenoir City, Tenn., native went into the finals placed second after finishing the prelims in 52.03. It's the first national champion for WKU swimming.
The women's medley team also had a strong showing at the USA Swimming National Championship, as Allie Duff, Claire Conlon, Maggie Patterson and Celia Ouellette completed the event in 1:41.07 for ninth place overall out of 19 teams.
T.J. Bland also had a strong individual finish, coming in 11th in the 100 breast after stopping the clock in 54.21.
Heitor Rodrigues appeared in the 100 fly finals, finishing 18th in 47.62, as it was just faster than his prelim time of 47.68. Conlon also finished 18th in the 100 breast after hitting the wall in 1:01.56. Duff came back for her second night of finals, completing the 100 back in 54.55.
The swimmers are back in action on Saturday to finish out the competition, as prelims begin and 8 a.m. CT and final at 4 p.m. CT.
For all the latest news and information on WKU swimming and diving, visit WKUSports.com or follow the program on Twitter via @WKUSwimDive and @WKUDiving and by liking the team on Facebook through WKU Swimming and Diving.