Deer busts through Loudon County hardware store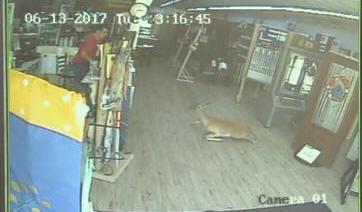 LOUDON COUNTY, Tenn. (WVLT) It was just a normal Wednesday at JW Wilburn Hardware in Loudon County, until a deer busted through the front doors.
Employee Blaire Burnette was going about her day as usual when she heard a car screech to a stop. The next thing she knew, she heard a big boom.
"I thought maybe a car come through, and it was actually a deer, and he was hit by the car. These doors were shut, and it just completely knocked them open," Burnette said.
The deer made its way around the hardware store, knocking into displays and sliding around on the floor. Burnett explained that the deer seemed to have broken ribs and possible internal bleeding from multiple injuries. She told us that the store looked like a crime scene after the incident.
"It was going berserk, and it finally got down and one of our guys got it and was trying to hold it to try to keep it from getting ran back over or hurting somebody," Burnette said.
The deer was clearly in distress and making a lot of noise. The employee said she was not scared, but she was glad no customers or other employees got hurt. The police showed up and handled it from there.