Dashcam video shows Loudon County deputy ram Amber Alert suspect's car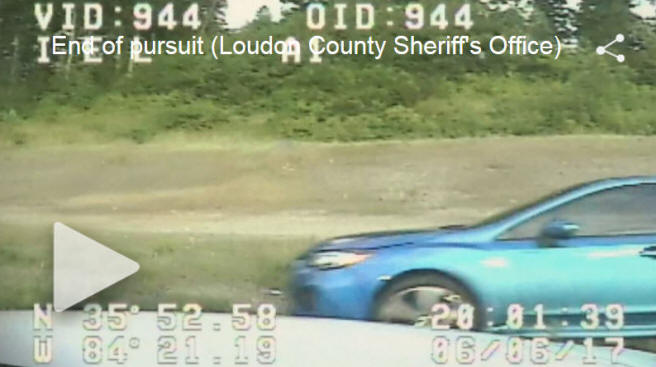 LENOIR CITY (WATE) — Dashcam video from the Loudon County Sheriff's Office shows the moments leading up to the recovery of Georgia teen after a statewide Tennessee Amber Alert.
Tennessee Bureau of Investigation issued an Amber Alert for Skylee M. Morgan, 14, at around 7:33 p.m. Tuesday. The sheriff's office said Skylee was found less than 30 minutes later, thanks to a driver calling in to say she thought she was behind the blue Subaru identified in the Amber Alert. The driver of the car, Emily P. Sherer, as well as a passenger in the car, Arrow James-Sims Smith were taken into custody.
At around 7:51 p.m., the Sherer's blue Subaru is seen in video passing a sheriff's deputy. Loudon County Sheriff Tim Guider said Sherer was driving at a high rate of speed without a license plate. The deputy turns on his lights and attempts a traffic stop.
Video shows Sherer's car speed up, passing cars on Interstate 40. At around 7:53 p.m., she gets off at at the Watt Road exit, running a red light to make a left turn on to Watt Road. Just minutes later, deputies follow the car getting back onto the ramp to Interstate 40.
Deputies follow her to the Buttermilk Road exit (Mile marker 362) on Interstate 75. Sherer's car makes a left on to Buttermilk road and continue on to Smith Waller Lane. At 8:00 p.m., Sherer makes a right turn on to a dirt road. Her car slows down and deputies are able to catch up to her Subaru.
The road ends in a field and video appears to show Sherer attempting to turn around. One deputy follows her and a second deputy rams his cruiser into the driver's side of the vehicle.
The car stops and deputies can be heard yelling, "get out of the car. get on the ground now." Sherer is heard saying "[explicit] you. You [explicit] the car up."
In the recording, Syklee can be heard saying, "Are you taking me back to my mother?"
TBI says Skylee was in sitting in the back seat and Smith was sitting in the front passenger seat. Skylee had last been seen at the Baymont Inn in Calhoun, Georgia, around 11 p.m. Monday night, and was said to be in the company of Sherer. The Georgia Bureau of Investigation said they believed she was in extreme danger.