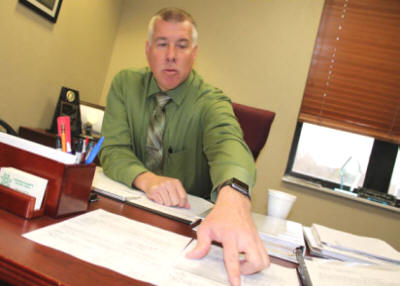 Loudon County Sheriff's Office Assistant Chief Deputy Paul Curtis has taken a job in Knox County, seven months after taking over for Jimmy Davis when he was promoted to chief deputy to replace now full-time Lenoir City Mayor Tony Aikens.
Curtis' last day was Friday. Monday he began managing Knox County Sheriff's Office's K-9 program.

"It was a good opportunity," Curtis said. "They created a good opportunity for me. I decided to move forward on it. I've had a good 19 years at Loudon County. Certainly don't have any regrets there. It's been a good agency and I'm going to move onto another good agency."
Curtis called leaving LCSO a "bittersweet thing" after spending many years with the local agency, first starting as a part-time officer in 1998 and eventually overseeing the narcotics and K-9 units.

"There's some very talented people (in LCSO)," Curtis said. "Obviously, I've worked with many of them for up-teen years.

Certainly going to miss a lot of those people. My family lives here, my friends live here, so I've always felt good about working for my community here. That'll be tough to get used to, not working in the same community I grew up in. Although the Knox County's Sheriffs Office is — I'm very familiar with them. I know a lot of people up there. Again, it's also a good agency, just a much larger agency.

"I'm a little sad on this side of leaving the people I've worked with for years, but I'm excited about a new opportunity that's going to be a good challenge for me and it's in the area of what I love to do, which is train dogs and train K-9 handlers and so I'm going to go forward and see what happens," he added.
With Curtis' departure, Sheriff Tim Guider has been working to find his replacement. Hopes are to make a decision by the end of the week, he said, noting he would like to promote from within. Guider noted Capt. Tony Arden, Lt. AJ Yokley, Inv. Sgt. Jeff Russell and Inv. Lt. Patrick Upton have all expressed interest in the vacant position.

"It shows that, again, ... (you) work hard and you have an opportunity to move up," Guider said, noting promoting from within adds continuity. "It's just rare though that that happens, but it has happened here in a short period of time. A couple of positions in upper management positions, so that's just kind of rare here."

Guider said finding Curtis' replacement will be "difficult" because of his hard work ethic over the years.

"He has shown leadership in a couple of areas," Guider said. "Obviously his K-9 training and supervisory positions and the drug unit. ... Not sure yet what we're going to do as far as the K-9 training right now. We'll look into possibly joining Paul even if that's a possibility that he may still be training. We may go to Knox County and do our training."