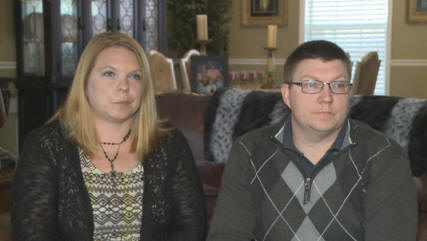 LENOIR CITY, Tenn. (WVLT) --
"They're too young now to tell details, that's not something we need to talk about but that they just know they're loved and that's how it's got to be", said Karen Stephens.
Sammy and Karen Stephens want their twin boys Jaxon and Cayden to never forget their love.
They're typical five year old's, happy and full of energy. But nearly three years ago their world changed forever.
Around midnight in June of 2012, Karen's sister 28-year old Erica Dabbs and her husband John, got into a fight.
"It escalated from there, there was a gunshot and she didn't make it," said Karen Stephens.
John was convicted of voluntary manslaughter. A couple of hours later he called the Stephens asking them to take the twins.
"I think he knew this is where they needed to be and this is where my sister wanted them to be," said Karen.
The Stephens admitted they needed guidance and they got it from First Baptist Lenoir City.
"When you hear of traumatic events, Oh I'm going to pray for them but when you're actually in the middle of it you can just feel the prayers," said Karen.
Yes, there have been questions about their mommy and daddy.
"But we work through it, we say you know I'm sorry let's talk about it and it passes," said Karen.
And now almost three years later, the transition continues.
"You go from two girls to adding two boys to the mix, and we have a 17 year old and a 12 year old but they've loved them like their own," said Karen.
The Stephens have adopted Jaxon and Cayden
And while mom and dad watch their other children on the court, the twins are off doing what five year old's do, playing on a playground.
"You have to look toward the end and see the goal of having these boys grow up in a good home...if you could step up and make a difference you should," said Sammy Stephens.
As for the biological father, John Dabbs, he served time for voluntary manslaughter but after getting out he violated probation and is now sitting in the Morgan County Correctional Facility. He's up for parole in April.