Contractor disappears without finishing deck, sunroom job in Lenoir City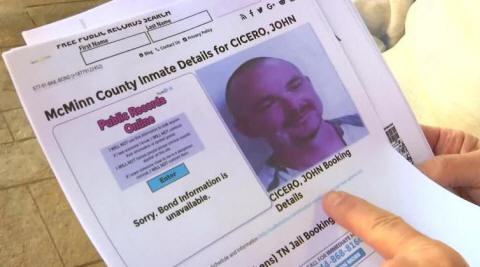 LENOIR CITY (WATE) – A contractor was hired to build a deck and sunroom in Lenoir City, but never completed the job.
Rich Backer said he hired John Cicero, who owns SouthEastern Construction in Decatur, Tennessee, in May. At the end of May, Cicero received his first payment and within a few weeks collected nearly $14,000. After receiving the payment, Backer said Cicero quit, leaving the sunroom incomplete and with a lot of mistakes.
"He messed up my whole ceiling. It will all have to be ripped down," said Backer.
Backer says the front porch that Cicero started in May failed a codes inspection He says one of the first construction errors the city noticed is that Cicero never installed a support beam in the sunroom. The building inspector also noted that Cicero used hinges as a support structure for the porch instead of galvanized brackets. Aluminum flashing was too short.
"The risers aren't the right height, so the building inspector failed that," said Backer. "He didn't even put it on concrete. He stuck it in dirt."
The city inspector also reported the soffits under the sunroom's roof will need some work.
In March of 2015, Cicero was operating CC&T Construction in Sweetwater and was fined $2,500 by the state for being an unlicensed contractor.
Cicero has a previous police record in McMinn County. He was supposed to show in court last week for theft, but according to the court clerk he didn't show up for the hearing in Athens. There's now a warrant out for his arrest.
WATE 6 On Your Side reached out to Cicero to hear his side. Cicero has yet to respond.
Backer said he called Cicero asking him to make the needed repairs, but he hasn't returned his calls. As it stands now, the structures have failed code inspections and it may take another $14,000 to fix the mistakes if Backer can find a contractor to do the work.