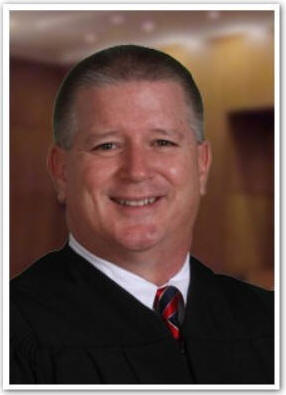 At a time when Loudon County is facing challenges on numerous fronts in the local justice system — from a lawsuit requesting additional salaries and staff members in the court clerk's office to pressure from the state to address ongoing inmate overcrowding — Judge Rex Dale has continued a push to secure a new full-time judge to meet an increasing caseload at Loudon County General Sessions Court.
Dale on Monday came before Loudon County Commission to make members aware of a piece of proposed legislation that, with assistance from Rep. Jimmy Matlock, R-Lenoir City, he planned to send to the state legislature to lay the legal groundwork for an additional full-time judge.
The legislation stipulates that commission would appoint a second judge, who would then be elected to eight-year terms thereafter. Adding the new judge would be subject to funding approval by the commission.
"For 56 years, we've had one judge for General Sessions Court and just one judge handling all the jurisdictions, and I've been spending 50 to 60 hours on a weekday basis," Dale said. "I've been coming in on weekends. The caseload that I have is absolutely tremendous."
In 2014, the county appointed Hank Sledge to serve as a judicial magistrate to handle juvenile cases at a base salary of about $95,000. Dale opened talks with commission about potentially adding a new judge this past summer to address the caseload.
Dale said hiring the magistrate only provided assistance for his department in one jurisdiction, noting that he oversees five jurisdictions and three administrative positions. He said about 12 years ago, the previous judge, William Russell, petitioned the state for a second judge before bringing a request to Loudon County Commission, a strategy Dale hoped to reverse.
"That's why I'm here to reiterate what I did with the previous commission in July and August to let you know what I'm doing so it doesn't look like I'm trying to do something behind your back," Dale said.
Commissioner Bill Satterfield asked Dale what "negative blowback" the county would feel from failing to add an additional judge, and Dale said increased caseloads could continue to push back trial dates.
Commission Vice Chairwoman Earlena Maples questioned whether Dale was aware of the heavy caseloads when he ran for office. Dale was sworn into his second term in office in August.
"I don't mean for this to sound not nice or whatever, but you knew this situation when you ran for the office. Is that correct?" Maples asked. "I mean, you knew what went on at the courthouse and kind of what the caseloads were and different things like that."
"I did not," Dale answered about his initial term in office. "I knew that we had five jurisdictions when I walked in as the judge. I found out that there were 300 to 400 cases that were backlogged on cases that Judge Russell had heard but had not made an opinion on, and so having to catch back on those cases, retrying certain cases and dealing with his backlog that he left when I came into this office. I had no idea until Sept. 1."
Maples said the public will end up funding the move with a tax increase if the county added a second judge.
"I'm a taxpayer as well," Dale said. "I don't want to have to pay more taxes, but at the same time having one time when the population was 27,000, now we're at a 51,000 rate and have one single judge as a General Session judge?" Dale said. "You look at a comparable county, which would be Roane County, that has two full-time judges and two full-time magistrates doing the same job as I do."
Maples said not many people in Loudon County make a salary approaching Dale's $150,000 base salary.
"I agree," Dale said. "I would say the percentage that have a legal degree is very low as well too, and in order to be a judge you have to have a legal degree in order to run for a judge. You have to take a decrease in pay as an attorney too," Dale said. "I didn't do this job for the money. I do this job because my heart" is in it.
Dale said the county's population has grown 112 percent since 1959 when General Sessions Court was established, adding that 56 years later, the county still has an "antiquated, one-judge system" that handles all legal jurisdictions.
"Well, I'm just saying you knew that when you ran," Maples said. "This is my honest opinion. This is what's in my heart, and what I feel. You knew it when you ran. You knew what you were going to make. You know there were going to be caseloads."
Dale said he was not asking for additional money for himself. He said he worked every day in December except on Sunday and Christmas Day to keep up with the caseload.
"It's because I'm committed to my job, but I need help to do that job and to do it in an efficient manner for the county," he said.
Commission plans to discuss the request with Dale in more detail at its February workshop.
Commissioner Van Shaver said the only way for the county to create another court is through a tax increase, which might be a hard sale for the public.
"You can get by with a tax increase for children, little children and education, but man it's a whole different world when you start talking about the judicial system, the justice system and that sort of stuff," Shaver said.
Dale said one option would be that once the state approved an additional full-time judge for the county, Sledge's status could be upgraded to a full-time judge at an additional salary increase of about $20,000.