WHITNEY GOOD-6 News Reporter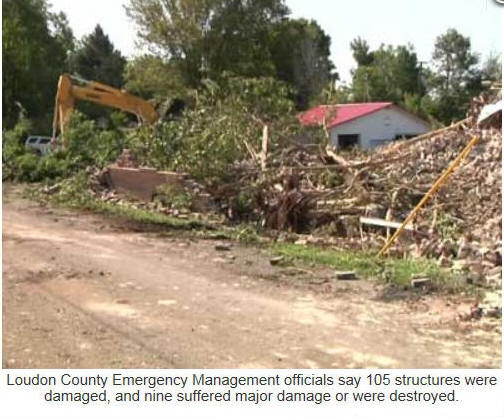 PHILADELPHIA, Tenn. (WATE) - Crews and homeowners were out all day Thursday cleaning up the damage left behind by Wednesday's storm.
The National Weather Service went through assessing the damage. They have determined that it was straight line winds, not a tornado that caused all the damage.
Loudon County Emergency Management officials say 105 structures were damaged, and nine suffered major damage or were destroyed.
"It was so powerful that it took my flagpole down, a metal flagpole down. It had the trees literally just bent over," said James Harold.
People in Philadelphia say they were caught off guard by the force of Wednesday's storm.
"My wife was in the house and it scared her. I'm a man. I ain't supposed to say I'm scared, but yeah it did," said Harold.
The storm blew through around 3:00 p.m., ripping apart trees, tearing down power lines and damaging several buildings. Harold's brand new fence and several large trees around his home were no match for the winds.
"It was just devastating. I mean, I've lived here all my life and never ever has anything this devastating ever hit this town," he said.
"We knew the atmosphere was very unstable and it wouldn't take much to get it going," said Anthony Cavallucci with the National Weather Service.
The agency surveyed the damage, determining that even though there was some rotation indicated in the storm, it was straight line winds up to 90 miles per hour that left all this damage behind.
"Once it got going, those thunderstorms continued and a few of them got really strong with very large hail, which is pretty unusual for August to see this type of weather," said Cavallucci.
Officials say thankfully there were no injuries from the storm.

Philadelphia Elementary students ride out the storm
The storm hit right as the elementary school was about to let out, and many people are thanking the quick actions of the faculty there for keeping kids and parents safe.
"They told us it was fine, and then all the sudden all the lights go off," said Addison Russell, 9.
Addison was in her classroom finishing up a normal day at school when she realized something scary was happening.
"Our reading teacher said, 'Okay everyone it's a tornado drill.' And everyone thought that was so fake, and that they had really good sound effects or something and then we all realized that that was real."
Addison says her teachers rushed into action, getting all the students into a tornado drill while the storm blew over.
"I have to tell you the kids and the faculty the were fantastic and we've practiced the drills. We've already had our tornado drill and they went right into place," sand Principal Maria Warren.
"Our teacher said, 'Lets just read a book to calm us down.' The only thing I could think about was my little sister. I was saying, 'Please make Lilly be okay. Please make Lilly be okay," said Addison.
They say it took about an hour for the weather to calm down, but once it did the realization of the damage it caused around town started to sink in.
Philadelphia Elementary School was closed Thursday, but they are expected to be open Friday.
The school building is on Spring Street, just a few blocks over from where some of the worst damage was reported.
All roads were back open and electricity restored to customers by 5 p.m. Thursday, but officials say the damage will take several days to clean up.